Commie Guns: Arming the Third World

Points)
on 9/1/12 at 10:30am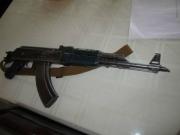 After my last rant on US weapons sales in the Middle East, I thought it might be interesting to look at who I personally think is the most influential arms supplier in the world. Sure, the US loves selling high end goods to buyers with big bucks, but we certainly don't see various third world rebel forces hauling the latest versions of the M-4 Carbine around while they pillage and plunder, even if the good ol' USA is quite skilled at transferring foreign arms to foreign forces quickly and quietly. Of course I'm talking about the former Soviet Union and the incredible effect its arms have had on the course of history. In order to illustrate the vastness of the Russian arms industry, I'll tell you a story, and I promise it isn't the plot of "Lord of War".
This May I found myself in Kabul, Afghanistan for work. Not really as rough of a journey for me as it is for others; my family is from Afghanistan and my parents run a successful co-ed vocational school in Kabul. Even though I was born in Baltimore it feels like home. While I was there I gladly offered up free small arms training to the guards at the school, some of whom had last fired their weapon in the direction of a Soviet fuel truck in 1986. So before we began to shoot at a range on the outskirts of Kabul, I performed a weapons inspection. I have had thousands of hours working on and using the AK family of rifles right here in the states, so I was familiar with their history. It was a standard array of Kalashnikov AKMs, most of which were 60's and 70's era production. However, there was one rifle that stood out.
The original stamped AK-47 was only produced for one or two years in '47 and '48, after production problems led to the still rare milled AK 47 produced in the 1950's before the advent of the ubiquitous stamped steel AKM familiar to us today. This rifle was beyond rare, a museum piece that should hardly be exposed to daily handling. Even more interesting than the rifle's age was its history. The rifle was said to have been sent from a shipment believed to be direct from Israel. Of course Israel was one of the nations the US convinced to send Soviet weapons to Afghanistan during the Soviet occupation, having a huge stockpile of them after the Six Day War and the Yom Kippur War. This meant the rifle was originally transferred from the Soviet Union to one of the Arab nations they supplied during these conflicts. Who knows what it saw while in Soviet possession. Vietnam? Hungary in '56? I can keep wildly speculating if you'd like.
This rifle had seen action in the Soviet Union, a mystery Arab state, Israel and then Afghanistan. It had gone from being used by a Muslim nation with Soviet backing against a Jewish state with American backing to being transferred to a Muslim nation with American backing to use against the Soviet Union, all of this occurring within twenty years. The spread of Soviet arms to any nation that claimed to have a potential Socialist uprising during the Cold War resulted in the arming of the third world with weapons that are still far from obsolete.
In 2011 Russia was responsible for 15% of the world's arms sales, but I honestly believe their availability along with weapons from other Eastern Bloc nations and China make them far more influential to the world's current state of affairs. It is safe to say they have played a part in every single Cold War and post Cold War conflict. Their small arms are available in every corner of the world and their helicopters, aircraft and tanks equip every nation that can't afford fancy western gear. The Reds loved to produce and produce, and it has resulted in Russian guns that number in the hundreds of millions.
So while you're reading the hundreds of articles that will be released as Lockheed and Boeing sell to more and more nations abroad in ever increasing numbers, remember that high end western equipment sold to allies will more likely see the inside of a storeroom than a real conflict before its rendered obsolete by time. On the other hand one cheap Russian rifle could have played a part in every major beef of the last half century and still remain relevant.