Facebook Mulls Move to NYSE
ST
Points)
on 5/24/12 at 7:30am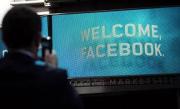 This one kinda came as a surprise to me, as I believe the move would be unprecedented if it happens. Sure, companies switch listing exchanges all the time, but never less than a week out from their IPO.
Reports are circulating that Facebook (read:Zuckerberg) is considering de-listing on the NASDAQ and re-listing on the NYSE in the wake of Friday's janky opening and the resulting investor lawsuits. I'm sure the good folks over at the NYSE wasted no time in contacting the company to point out what a crappy job their cross-town rival did and how much smoother things would've gone on the Big Board.
"It's not hard [to switch listings]," says David Wield, a former Nasdaq vice chairman who oversaw the exchange's global listings business. "Both firms [NYSE and Nasdaq] handle this sort of things all the time."
I'm trying to figure out the thinking behind the move (if Facebook is in fact considering it). It seems like the move would be primarily to deflect the wave of investor backlash and place the blame solidly on the NASDAQ, which I think is fair to an extent.
Or maybe it's just because he can, and now that Zuckerberg has had a taste of throwing his weight around on Wall Street (and let's face it: he's had his ass kissed by Wall Street from day one) he wants to show the world who's boss. In a backhanded sort of way, a move to the NYSE could even project some of the investor hatred back on to Morgan Stanley, if Zuck can convince the public that the NASDAQ listing was all their idea.
It's interesting to see how far this will go, and whether it will be successful in making Facebook look good at the expense of the NASDAQ and their underwriters. The ironic thing is that this type of donnybrook is exactly what Zuckerberg purposely avoided by delaying the IPO as long as possible.
What do you guys think?