Have the BRICs Lost Their Magic?

Points)
on 5/22/12 at 6:50pm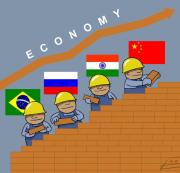 When a Goldman economist coined the term "BRIC economies"—Brazil, Russia, India and China—he argued that their potential could make them the world's four strongest economies by 2050. A few years ago, this seemed entirely plausible. Today, many have their doubts.
China's property market is on the brink of collapse. India is dealing with double-digit inflation and stagnant growth. The Brazilian stock market has fallen 25% since March. Russia is doing a little better, its infrastructure is weak and crumbling. Perhaps a slowdown isn't the worst thing. But what happens if everyone comes to a halt at once?
In 2008, the developing world carried the developed world through the crisis. In 2012, the developed world isn't ready to carry the developing world if they have their own crisis. A shallow recession is probably the best-case scenario in Europe as it continues to flirt with disaster. And growth is still slow in the U.S., with another summer doldrums looking all too possible. Who will save us this time if things get bad?
The global economy needs a new set of countries to step up. Is there a better emerging market out there than the BRIC economies? How do you see these economies faring in the decades to come?
Some say the direct impact of BRIC economies is trivial. Yet together, the BRIC countries' GDP exceeds that of the euro zone. Brazil has the largest economy in Latin America and is a major energy exporter. Russia is the world's 6th largest economy. India is a global leader in manufacturing and service-based industries. China is expected to overtake the U.S. as the world's largest economy by 2016, according to the IMF.
Emerging markets are now the main source of optimism for global markets. If there is no growth in emerging markets, asset prices will sink around the world. This wealth shock may well result in a global slowdown or recession.
I still view the BRIC countries as a great source for foreign expansion and investment. These economies have low labor and production costs, and their growth has resulted in explosive returns for investors. Still, we learned the hard way in 2008 that all good things come to an end, so it's only logical to prepare for the worst while hoping for the best. Will the BRICs' rise come to an end within the next decade, or do you agree with the original thesis that Brazil, Russia, India and China will be the four most dominant economies by 2050?
See my WSO blog
"The only thing that interferes with my learning is my education." Albert Einstein