HBO to Make Too Big to Fail

O
Points)
on 3/5/10 at 9:40pm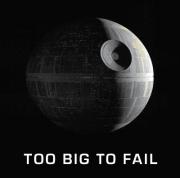 HBO, which I would venture to say consistently produces the best material on TV, has announced that they are going to make a TV movie about the financial collapse based on Aaron Ross Sorkin's book. I will not reproduce the entire title of Sorkin's book, because that would take up too much space.
The LA Times movie critic, Pete Hammond, says, "normally I would say this kind of subject matter would be a big yawn, but ..." Goddammit. That's why we're in this position in the first place, because everybody thinks this stuff is not interesting enough to waste time thinking about.
My question is ... who do you recommend being cast for the roles of Fuld? John Mack? Geithner and Paulson? I would say just let Philip Seymour Hoffman play them all, but I've been wrong before.
The screenplay is to be penned by Peter Gould -- one of the head writers for the show "Breaking Bad."