Other - Student / Prospective Monkey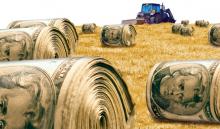 So how much is enough? While your inner Gordon Gekko may be screaming, "It's never enough!", a survey done by Fidelity Investments of millionaires suggests that 26% of them don't feel wealthy unless they have at least $5 million in investable assets to begin feeling wealthy. Not surprisingly:
That's actually a significant difference from a year and a half ago, when 42 percent of the same group said they didn't feel wealthy, and that they would require $7.5 million to begin to feel rich. Seems like their thinking has evolved to the realities of the current financial climate.
While their expectations are lowered, their outlook suggests otherwise:
Fidelity found that today's millionaire is, on average, 61 years old with $3.05 million in assets. And their outlook is sunny: respondents were more optimistic about the future financial environment than at any other time in the survey's five-year history.
This kind of makes sense, given that a nominal pretax 4-5% return on 5M invested in a income fund may return you roughly $200K a year, probably enough to live quite freely and comfortably. The problem is, saving enough until then. I've often read on M&I that even a high salary would stifle your savings, given the higher expenses incurred living in the big city. True?
Do you have a number or a goal? Has your expectations lowered too? How realistic is it for the average finance professional to reach $5 million when you retire?
Upcoming Events
May 24 2016 - 5:00am

to

May 25 2016 - 5:00am

May 28 2016 - 9:00pm

to

May 29 2016 - 9:00pm

Jun 1 2016 - 5:00am

to

Jun 2 2016 - 5:00am

Jun 8 2016 - 5:00am

to

Jun 10 2016 - 2:00pm

Jun 11 2016 - 5:00am

to

Jun 12 2016 - 5:00am
Poll
Who is your favorite Hedge Fund manager?
Bill Ackman
14%
Steve Cohen
8%
Ray Dalio
17%
Ken Griffin
8%
Carl Icahn
10%
Jim Simons
4%
George Soros
10%
David Tepper
6%
David Einhorn
8%
Seth Klarman
9%
Other / None of the above
7%
Total votes: 535