Investing...In Poker Players
Points)
on 7/1/12 at 3:00pm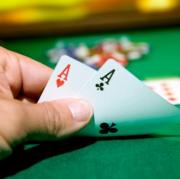 When someone tries to raise capital, we normally think that the person is trying to start or expand his/her own business. Recently, a 28 - year old man named Noah approached investors for help: he ended up raising $900,000. However, the money was not used for pursuing his entrepreneurial endeavors. Instead, he was using that money to enter a poker tournament.
During these next three days, arguably poker's biggest event ever will take place: The Big One for One Drop tournament. Entry Fee: $1 million.
As a result of the large buy – in, many poker players had to seek out wealthy businessmen, hedge fund managers, and real estate moguls to raise the money. So, why would these investors stake their own money for a poker tournament?
Answer: The potential return from their investment - the winner of this tournament takes home $18.3 million. A certain percentage of the winnings will then go to each investor.
Even though the concept of investing in poker players seems novel, poker has always had "an informal investment economy" where players stake each other and/or receive support from wealthy friends. However, the practice has become more formal over the recent years. For instance, there are now websites with the goal of matching players with investors, and investment funds have been formed to invest in players, similar to how a mutual fund invests in stocks.
Even though these investments seem extremely risky, many investors do not see the practice as outright gambling. One investor, who is also a mergers and acquisitions advisor, states:
The key to poker investing is spreading investments over numerous players and many tournaments.
What do you guys think? Is this a worthwhile investment?
You can read the full article here.