Is the gold rush over?

Points)
on 12/13/11 at 7:30pm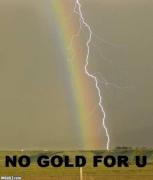 Dennis Gartman was on CNBC earlier today laying out his case against gold and aside from him saying that the bull market is dead, I can't help but agree. Price action for the precious metal has been very erratic lately, bullish news followed by short rallies are telling me that the big guys are either out or cashing in to the late longs and despite the probability of more money printing (or whatever bullish case you might have) to come, the bulls seem to be nowhere in the order flow.
Granted, I haven't been following gold that much these past weeks so I could be dead wrong on this one, but either way I can't help but feel that unless something big happens, the gold market could end up pretty ugly.
What do you think monkeys?
Is the gold rush over? Or is it just taking a breather?
Video after the jump.
People like Coldplay and voted for the Nazis, you can't trust people Jeremy