Markets Never Forget (But People Do): A Monkey's Review

HF
Points)
on 8/14/12 at 12:30pm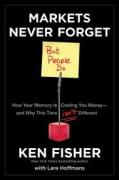 "The four most expensive words in the English language are: 'It's different this time.'" – Sir John Templeton, investing legend
Forbes columnist Ken Fisher's new book is a very timely read for all investors, whether bullish or bearish. If you are convinced (as many of us seem to be), that we are in a 'new normal,' that we are in a 'secular bear market,' that we will soon have a 'double dip recession,' or in general that nothing good will ever happen in the stock market ever again, "Markets Never Forget" will dunk your head into a bucket of ice water and make you reconsider.
It's all too easy to buy into the shrieking negativity that dominates so much coverage these days, but the majority of it is easily challenged by glancing at stock market history, some of it pretty recent. Although Mr. Fisher acknowledges that past performance doesn't necessarily predict the future, stock history is a useful "laboratory" that lets us see what happened under certain sets of economic and political circumstances.
Let's start with that terrifying 'double dip recession' so many people are screaming about. Well, it's imminent, isn't it? Everybody knows that, right?
Fisher asks us this: Would you be willing to bet big on an event that has only happened 3 times in 33 markets cycles—a 10% occurrence, 2 of 3 of those happening pre- and early Federal Reserve? Because that's how often a double-dip recession has occurred in the United States since 1854 (if we define it as a recession with a 12-month growth break, immediately followed by another recession). The last time we had one was from 1980-81, which came right before a decade-long bull market. Before that, you'd have to go back to 1918 to find another 'double dip recession.' Interesting, huh? You won't hear about that on CNBC.
The central theme of the book is that human beings have faulty, myopic memories that lead us to expect these rare events (like the double dip) to occur all the time, even though it can be largely disproved just by checking easily available history. We just forget, because our brains are hardwired to think that the current time is always "the worst it's ever been."
"Markets Never Forget" is also peppered with some amusing headlines that you'd think were ripped straight from today's papers. Even going back to the 1930s and before, writers and analysts chewed their nails over 'the new normal'—slow growth, high unemployment, and basically Armageddon. We're still here—people just forget.
Spanning eight well-researched, refreshingly level-headed chapters, "Markets Never Forget" skewers all of the common, persistently boring talking points from "jobless recoveries" to stock market volatility to stock returns depending on which political party is in power in Washington (and the result may surprise you).
And the conclusion is simple: This time it is NOT different; we just forget.
Read up, monkeys!
Monkey's Review 1: Barbarians At the Gate
Monkey's Review 2: The Financier
Monkey's Review 3: Decision Points
Monkey's Review 4: Debunkery
Monkey's Review 5: When Genius Failed
Monkey's Review 6: Monkey Business
Monkey's Review 7: Death Of The Banker
Monkey's Review 8: A Journey
Monkey's Review 9: Damn It Feels Good To Be A Banker
Monkey's Review 10: The Quants
Monkey's Review 11: All About Hedge Funds
Monkey's Review 12: The Unlikely Disciple
Monkey's Review 13: Adventure Capitalist
Monkey's Review 14: The Hedge Fund Book
Monkey's Review 15: Investing In Hedge Fund of Funds
Monkey's Review 16: Hilarity Ensues
Monkey's Review 17: The Prince
Monkey's Review 18: Markets Never Forget (But People Do)
Monkey's Review 19: The Money Culture
Metal. Music. Life. www.headofmetal.com