Mitt Romney's Dilemma

Points)
on 7/7/12 at 2:30pm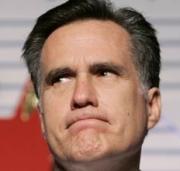 Although this is a fairly political post, I thought it was rather interesting that Romney is still having a problem with this, particularly this close to the general election. As new jobs numbers come out that don't particularly help Obama, one would think that Romney has a great opportunity to take over the current news cycle for a few days, including the Sunday talk shows.
However, reports are surfacing that Governor Mitt Romney's STILL having trouble connecting to the core conservative base in his party. A recent article from the New York Times shows that Romney has been trying to reach out to the Republican establishment over the past couple of years...with not much success.
The main focus of the article is based on Rupert Murdoch's opinion of him and how it's ultimately filtering into all of the news organizations under his control. This has led to an editorial at The Wall Street Journal (a publication that you'd think would love him) that was far from kind, which worried many insiders.
The editorial was a stern reminder of Mr. Romney's failure to win the trust of the Republican Party's core conservatives, a group that pays close attention to Mr. Murdoch's newspapers and cable news outlets. Though political strategists debate the ultimate impact of any single media outlet, what is written in the pages of The Journal and The New York Post and talked about on Fox News — all Murdoch properties — could have the collective power to shape the thinking of millions of voters.
Some other interesting highlights form the article:
When asked about how he form his cabinet, he responded that he would use McKinsey, the consulting firm, to help him build it.
After a meeting with the WSJ editorial board, the write-up that summarized it referred to him as "Consultant-in-Chief"
What was surprising to me is that he really does have the qualities that you would want from a president. He's sort of a nerd, sure, but who cares? The article discusses how he loves data crunching and using his organizational skills to fix complex problems, which we have a shit load of. And yet, conservatives aren't that enthusiastic about him.
What do you guys think? Why is this such a problem for Governor Romney? How can he fix it? By the way, let's try and keep this discussion civil.