Net Asset Value "NAV" (Part 1)

CF
Points)
on 2/18/12 at 11:25am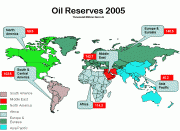 Net Asset Value "NAV" – Part 1
Net Asset Value is a key component when trying to value an oil and gas company. It is a value of the company based on the production and sale of all of its producing and future producing assets.
The estimated amount of reserves is taken from an engineering and geological report, generally done by an outside firm. The quality of these reports differs, which is a main problem in the certainty of NAV calculations. It contains a price deck which forecasts the commodity prices, a reserve base which estimates the amount of oil and gas the company owns, and a production estimate which assumes some level of production growth, usually short term and then a decline in reserves for the life of the asset which is anywhere from 5 to 30 years or more.
The calculation is done by multiplying the total yearly production estimates by the annual commodity price estimates to get an annual cash flow. This is also commonly discounted to present value net asset value "PNAV".
Another step to yield the NAV is to take your price estimate for the commodity and calculate your Netback, or your net realized cost per barrel. This would include subtracting costs such as production, general and admin, royalties, development and abandonment costs and taxes. This will yield your final realizable price and give you your NAV.
The oil and gas reserves are grouped into two main categories; 2P reserves, which are proved and probable, and 3P reserves which are proved, probable and possible. It is important to notice which NAV you are looking at, as 2P reserves offer a better base for valuation and 3P reserves offer a better potential upside target.
The final conclusion taken from NAV is the price to net asset value "P/NAV" ratio. A company trading below 1 is at a discount and a company above 1 is at a premium to its NAV.
What are some companies with interesting P/NAV ratios?