Quitting Smoking
PE
Points)
on 7/1/12 at 11:00am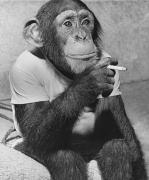 Fuck. I set a goal to quit and fail every time. I resolve to stop smoking almost daily. I state it out loud and humiliate myself within 24 hours. My stupid brain seems to automatically lead me to the nearest gas station to pick up a pack of smokes. I then proceed to smoke the entire pack within a week. This cycle gets repeated without fail almost every week.
I know smoking is terrible for you, I took the same D.A.R.E. classes in middle school everyone else did. I'm going to die a lot sooner, have health problems, etc. I've read all the medical literature and understand why I will get lung cancer. I've seen the pictures of blackened lungs on the cigarette boxes. I know what happened to the Marlboro Man (http://en.wikipedia.org/wiki/Wayne_McLaren). So much for making good decisions…
I've been consistently smoking cigarettes for the past five years. Occasionally, I'll gather up some willpower and make a run at quitting through various methods. I've tried gum, patches, cold turkey, and all that bullshit. It helps for a short period of time, but I end up going back to the cigarette eventually. The longest I've quit so far has been around a month and a half.
I'm pretty pissed and definitely want to . It's definitely not good for my health and I'm guessing, by extension, my career. I've been fortunate that it's relatively accepted where I work and I've seen about half of my co-workers light up a cigarette at some point. But even still, smoking is one of those things that don't reflect well on your perceived character. And as we know, appearances are everything.
Lately, I've been lately thinking of going to the Doctor and getting him to write me a prescription for Chantix (http://www.chantix.com/) or some other pharmaceutical to help me quit. They appear to directly alter your brain's chemistry and its reaction to nicotine, instead of serving as a nicotine fix substitute like the other methods. At first glance, this sounds like something that actually might work and is at least worth a try.
So the reason I bring all this up is I'm curious if others have gone through the same thing and succeeded. Has anyone effectively dealt with quitting smoking for an extended period of time? If so, what method(s) did you use to quit? How have you dealt with avoiding a relapse?