The American economy's....bouncing back?

Points)
on 7/14/12 at 2:30pm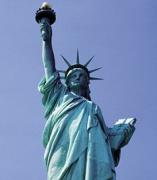 Yep, you read that correctly. According to the latest issue of The Economist, over the past 2-3 years, the American economy has almost completely reinvented itself and has changed from the centrally consumer-driven economy of 5 years ago to a far more diversified one.
One main change that stands out in the article comes from our nation's exports, something that's almost never talked about on any news channel except maybe CNBC or Bloomberg.
And American exporters are changing. Some of the products—Boeing jets, Microsoft software and Hollywood films—are familiar. But there is a boom, too, in high-value services (architecture, engineering and finance) and a growing "app economy", nurtured by Facebook, Apple and Google, which employs more than 300,000 people; its games, virtual merchandise and so on sell effortlessly across borders. Constrained by weakness at home and in Europe, even small companies are seeking a toehold in emerging markets. American manufacturers are recapturing some markets once lost to imports, and pioneering new processes such as 3D printing.
But, with our anemic job market, will these changes translate into jobs? What can help?