The MBAT
Points)
on 6/17/12 at 3:00pm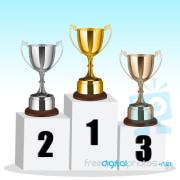 There's officially 40 days until the opening of the Games of the XXX Olympiad (2012 Summer Olympic Games). But for many European business school students, their version of the Games has already been completed.
Just last month, a large number of MBA students and alumni (over 1,500 representatives) across Europe gathered at HEC Paris for the annual MBA Tournament. Known as the MBAT, the tournament consists of three days of sporting competitions with events such as tennis, soccer, tug – of – war, and even salsa dancing.
So one might be wonder: what's the purpose of this tournament and how does it relate to MBA students?
Well, since its inauguration in 1991, the main goals of the MBAT have been to:
Foster a setting where MBA's could enjoy and compete in sports against one another.
Promote the HEC Paris brand globally.
For the participants of this event, the competitions enable them to develop their leadership and teamwork skills in a non – academic environment. And since the event involves business school students, it provides a great opportunity to network with fellow students and alumni.
For the group of MBA students at HEC Paris planning the tournament, organizing the event will teach them an important lesson in business that is often overlooked: the ability to learn on the job. While many graduates of MBA programs are trained on a higher level of thinking to run their own company or to sit in the boardroom, they are ill – equipped to handle the essential but more mundane aspects of an organization. With the MBAT, students learn about the importance of effective people management and develop skills that are essential for succeeding in business.
The event is all about learning on the job…Students have to tackle all aspects of project management, including corporate sponsorship and customer service.
In my opinion, this event sounds amazing. For those who have participated in the MBAT, would you mind sharing your thoughts and experiences? Who knows, maybe the MBAT will even pick up in the U.S.!
Promotional Video for the MBAT 2012: