The Most Badass Banker On Wall Street: Owen West

O
Points)
on 5/17/12 at 10:30am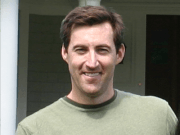 Meet Owen West, a 6'4" hulking 3rd generation Marine and 3-time author. He has an impeccable background and works as a managing director at Goldman Sachs, after educating himself at Harvard and Stanford Business School. Not only does he have a day job, a job as an author, a family, but he also has time to volunteer for a charity helping military families. In this short but awesome profile piece he speaks on failure, his life in the marines, and the now famous (or infamous?) Greg Smith.
Mr. West explained: "I've failed so often." "I have a very low stress level," he continued, double-fisting venti lattes. "Because at some point I became comfortable with failure. I've failed so many times that I've come to believe if I'm not failing regularly, I'm either not trying, or I'm not reaching high enough."
Is there anyone more badass working on Wall Street? I doubt it.