With 25% Unemployment, Does Spain Look Like This?
AM
Points)
on 7/28/12 at 12:30pm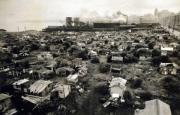 I recently completed my first trip to Spain and before leaving, I couldn't help but wonder whether the effects of the sour economy there would make themselves noticeable to the average tourist. The answer was surprisingly: Not really. Of course, since it was my first trip there I didn't have much of a basis for comparison. I also only visited the tourist hot-spots of Madrid and Barcelona. However, from what I did see the general mood didn't seem too much different from that of a tourist destination in the US.
By no means do I intend to minimize the pain of the Spanish people, as their unemployment rate reached 24.6% during the second quarter, with the rate over 50% for those under 25. This compares to the historical peak of unemployment in the US during the Great Depression of nearly 25% as well. However, the appearance of the country is not even remotely similar to these "Hoovervilles" in the US from the 1930s. Why such a stark contrast?
Although an important factor, unemployment obviously doesn't completely determine what happens to GDP, especially in Europe. In fact, Spain's GDP has shrunk only 1% over the last year. This is in contrast to an over 10% annual drop in GDP in the US every year from 1930-1932. Spaniards also practice a relatively communal lifestyle where multiple generations of family members live together and support one another, which can act as a natural safety net.
A significant part of Spain's GDP is supported by the government, in the form of a generous government social programs that include Universal health care and favorable unemployment benefits. However, it's these very benefits the government is beginning to cut in order to appease the ECB.
One may argue that if it weren't for such programs, the country would be in much worse shape. However some contend that it was "profligate" government spending that got the country into this mess in the first place.
Regardless, it makes me wonder what the US would look like with such a high rate of unemployment. Surely we'd be in worse shape than Spain? At any rate, with the institution of additional austerity measures that will reduce the very spending helping to prop up the Spanish economy, one thing is clear- things are sure to get worse there before they get better.