Banks being sued...again
Points)
on 9/4/11 at 6:44pm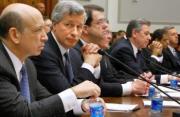 On Friday afternoon most people tried to duck out of work to get an early start on the weekend. Not the Federal Housing Finance Administration, they announced a massive lawsuit encompassing some 17 Wall Street banks.
The lawsuit is over mortgage backed securities that the banks had sold to Fannie Mae and Freddie Mac. These MBS' obviously went pretty sour when the housing bubble burst and the FHFA is looking to point fingers at that banks saying that they made "false and/or misleading statements". The banks are using the same defense as always, saying :
Fannie and Freddie were sophisticated investors who should have known the securities were not without risk and that the losses were caused not by fraud or misrepresentation but by underlying difficulties in the housing market.
Some of the amounts have not been specified by the FHFA since they are seeking "unspecified punitive damages" but it is clear that this is the beginning of a long legal process for both sides. As lawsuits continue to hammer banks what do you guys think will happen?. Will lawsuits like this persist until we see the end of the big bank? Or will the wall street big bank model continue to hold its ground for years to come?