Brazil overtakes UK to become world's 6th largest economy

O
Points)
on 3/7/12 at 2:11pm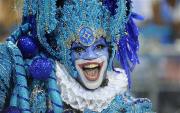 Gross domestic product grew by 2.7pc last year, down from 7.5pc growth in 2010, dragged back by higher business costs and lower industrial output. Economists had forecast a 2.8pc rise in gross domestic product. On a quarter-on-quarter basis, Brazil's GDP grew by 0.3pc in the final three months of 2011, against expectations of a 0.2pc rise.
Despite lower annual growth, economists at the Centre for Economics and Business Research (CEBR) said Brazil still managed to take Britain's spot as the world's sixth-largest economy last year, behind the US, China, Japan, Germany and France.
Você fala português?
http://www.telegraph.co.uk/finance/globalbusiness/9126786/Brazil-overtakes-UK-to-become-worlds-sixth-largest-economy.html