Capitulation, and Why We Aren't There Yet (part 2)
ST
Points)
on 10/9/08 at 11:20pm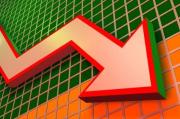 Wow. What a day. The shorts returned from their Fed-imposed hooligan's holiday today and did so with a vengeance, dropping the Dow like 3rd-period French. In the final hour of trading, the flurry of sell tickets was compounded by a multitude of margin calls and mutual fund redemptions. It might just be the tip of the iceberg, too.
Net selling of mutual funds within the pension and 401(k) framework will beat the market like a rented mule. I'm not just talking about the Dow and the S&P. Take a look at the chart on the Russell 2000 for the past 90 days (chart). It blew through support like there was nothing there.
So where is the bottom? Of course no one, least of all me, really knows. As for support, there doesn't look to be much at 8,000, but the support at 7,500 is massive. Beyond that, support at 7,000 is respectable but the next major support level after that is all the way down at 5,000. I am by no means suggesting the market will drop another 3,500 points; I'm merely outlining the strength of various support levels based solely on technical analysis.
The good news is that capitulation normally happens over a short period of time and presents phenomenal buying opportunities. Six back-to-back sessions of triple-digit losses certainly looks like capitulation. The bad news is that, for the first time in our history, the market has fundamental selling pressure that will exist for the next 20-30 years as the largest segment of our population is required by law to divest their retirement accounts (in greater numbers each subsequent year).
In short, the rebound probably won't be as quick and dramatic as we're used to. It is simple math, really. We seem to be headed for a 50% correction from the highs set one year ago today (as of today's close, we're around -43%). But from here the market will have to double just to get back to where we started.
In my opinion, the best indicator that the bottom has been reached will be a rise in the Consumer Confidence Index over consecutive quarters. It will be a lagging indicator for sure, but until Joe Shit the Ragman in Toadsuck Ferry, Arkansas feels safe enough to buy a new 50" Plasma for his double-wide trailer again, we won't be completely out of the woods.
Be on the lookout for a significant increase in buy-side volume with relatively small increases in stock price as a sign of final turnover and a signal to jump back in. In the meantime, consider any overnight position to be a long-term hold.
Unless I miss my guess, we have a rough couple of days ahead of us as waves of investors scramble to stop the bleeding. Take comfort in the fact that a market that crashes is far better for the Street than a market that steadily meanders lower over a couple of years.