Foxconn acquires ~10% of Sharp
IB
Points)
on 3/29/12 at 7:16pm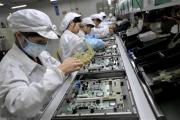 On March 27, Foxconn agreed to buy roughly 10% of Sharp, in addition to an LCD factory that Sharp lost a sweet chunk on.
If LCDs have become such a miserable business, why is Hon Hai so keen to get into it? On March 28th, indeed, it also promised to pump more equity into Chimei Innolux, a lossmaking Taiwanese panel-maker of which the Hon Hai group owns 11%. It has already bought LCD television factories in Mexico and Slovakia from another Japanese company, Sony, which is now its main LCD customer. Hon Hai may think that, with its ruthless attention to costs, it can succeed where the Japanese have failed. Or it may see in Sharp and its Sakai factory, from which Hon Hai will eventually take half the output, the promise of a technological step up. Like other manufacturers in China, Hon Hai faces rising labour costs, though it is better placed than most. (Mr Yang reckons that labour accounts for only 4.5% of the cost of goods sold.) A move up the value chain may help.
I guess I understand Foxconn's rationale here, being that their in bed with the the cash-generating machine that is Apple.
But at the same time, I feel like the TV market is so saturated that it will be very difficult for Apple to get a corner on this market if it enters. There aren't many ways to differentiate televisions as a product, and with low-cost (and very reliable) brands like Vizio entering the 3D market, I can't really think of a good entrance strategy for Apple.
What do you monkeys think? This plan obviously isn't doing Foxconn much good if Apple doesn't enter the TV market, but do they have a shot at dominating televisions too? I'm skeptical...
"An intellectual is a man who takes more words than necessary to tell more than he knows." - Dwight D. Eisenhower
Check out my blog!