How did you spend your CFA gap year?
Points)
on 8/17/12 at 8:00pm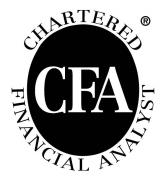 Hi,
Quick question to anyone who has re-taken any level of the CFA. A little background first. I signed up for the program a while back when my goal was an industry that "kind of" respected it (ie. not AM, ER, etc.). I have since shifted to an industry that it is a pinch above complete irrelevance. The reason i say this, is that the sign-up price hike is about 5 days away. Due to the change of industry, part of me says fuck it. However, the other (more rational, perhaps) part of me says I'm $700 away from $1500 and 300 hours NOT being a complete waste. So yea, I'm on the fence w/out a whole lot of time to decide.
Onto the question. What were your guys' game plans in the time between? I'm thinking secret sauce and 5 or 6 practice tests in the month or 2 prior should suffice? Did you find you recalled a lot or was re-clocking the 300 neccesary? Any other thoughts on how you prepared "again"? Like I said, due to the industry change- if I find that the consenus is the same effort was necessary again, I'm going to have a lot of trouble convincing myself it's worth it.
Much love,
GBS
GBS