Mariela Castro supports Obama

O
Points)
on 6/10/12 at 9:21pm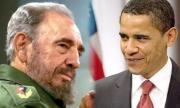 President Obama has received yet another endorsement, this time from the daughter of Cuban military dictator Raúl Castro. Mariela Castro proclaimed her support for the sitting president 10 days ago, during a visit to the United States. "I believe that Obama needs another opportunity and he needs greater support to move forward with his projects and with his ideas, which I believe come from the bottom of his heart," she said in a CNN interview in New York.
http://online.wsj.com/article/SB10001424052702303753904577454281416747936.html?mod=hp_opinion
There you have it folks. If that is not enough of a red flag, I don't know what is.