Physician Compensation in the Coming Decade
AM
Points)
on 8/9/12 at 1:00am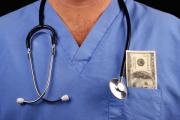 As an individual who has many close friends piling on student loan debt to obtain that coveted MD, it hurts me the say that physician salaries will likely decline over the coming decade.
As I alluded to in a previous post (http://www.wallstreetoasis.com/forums/medicine-versus-banking-dilemma-my-story), I think that actuaries at health insurance companies will be more highly compensated than doctors going forward.
As bureaucratic and administrative costs rise, doctors will look for the security of a large health system for stable employment. Couple these ailments with weak reimbursement rates and running a private practice just doesn't make any sense, especially when fresh MD's are saddled with $150k+ of debt.
For the sake of argument, let's say that a doctor with a large appetite for risk opens up a private practice. How can this business compete with the likes of huge health care conglomerates? They can't, health care systems know this, and so little mom and pop shops are selling their practices.
As TechBanking said,
....The day of the private practice is over. They are all being gobbled up by healthcare systems that are Kaiser clones. Doctors are becoming just another big corporate employee. There is a reason why there is a doctor shortage in the UK and Canada. It's simply not worth the time to get the MD, if you aren't going to get paid.
What are your thoughts, monkeys?