Playboy: Help Wanted

O
Points)
on 12/9/08 at 9:57am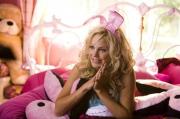 For those of you who are (or soon will be) staring into the ugly face of unemployment and a virtually non-existent job market, I found you a lead.
Looks like Christie Hefner, daughter of lifetime bachelor Hugh Hefner, is stepping down from her role as CEO of the family company, Playboy Enterprises.
The adult entertainment company has seen a steady decline in circulation, they theorize because people are turning to the web and looking for "racier pictures". Go figure.
Anywho, they're actively searching for her replacement, so if anybody think they can step into Christie's shoes, get that resume polished up nice and send it on in, although I imagine you'll have yourself some stiff competition. No pun intended.
Maybe if you're really good Hef will let you sample the goods.