Total Committed Capital vs. Total Capital Invested
IB
Points)
on 5/20/08 at 10:59pm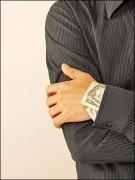 I know PE firms get capital commitments excess of the total capital the fund will invest all its life. How does this relate to individual investors?
Ex.
a $1.5bln fund is started with 26 investors(A-Z) committing 100 million each(total committed cap = 2.6bln).
Along the life of this fund only 15 investor's capital is called. The remaining 11, have their money tied up and not realizing any alpha return as a result.
Am I missing something? Sounds kind of like a bad deal for investors, I wouldn't want to have $100m waiting for a PE cap call which may never come. Why wouldnt investors just fork it over to a hedge fund which would put that money to immediate use?
If you weight the return on a capital commitment, would it really be worth it? For example, theres a 15/26 chance investor Z's capital will be called. Expected return of this fund is 25%.
(correct me if my assumptions/logic is wrong)
Fund Size: 1.5bln
Cap Com: 2.6bln
Expcted Rtn: 25% (of 1.5bln)
Rtn: $375mln (.25 x 1.5bln)
2% mgt fee: -$ 30mln (.02 x 1.5bln)
20% CI fee: -$ 75mln (.20 x [1.5bln x .25])
----------------------
Cash To Inv: $270mln
Eff Rtn: 18% (270mln/1.5bln)
This is the effective return to an investor whose capital has been called. Now adjusting for prob of not being called(obviously VERY simplified):
Will Call: 15/26
Not Call: 11/26
Called Rtn: 18%
No Call Rtn: 4% (US Treasuries)
Weighted Expected Return: .18(15/26) + .04(11/26) = 12.1%
Thats not including tax effect on ROI. Is this ballpark-accurate? Obviously the fund distributes cap calls across all investors so they draw from all 26, but the same logic still applies (instead of 15 out of 26 investors having their capital called, 15/26ths of investors cap-com is called)