7 Habits of Highly Effective Meetings

O
Points)
on 7/23/12 at 6:35pm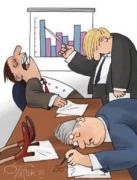 As of the writing of this post, I was actually sitting through my 3rd hour of meetings for the day. I have meetings to prepare for upcoming meetings, actual meetings, followed by meetings to debrief the meeting we just got out of. Most of these meetings are spent discussing updates on projects that have had little, to no progress because the team involved in them is always in meetings talking about the work that needs to get done.
Between counting how many times the words "as we covered in the 8am call this morning" were said and playing a few rounds of Bullsh** Bingo during the meeting, I jotted down a few tips on how the meeting I was currently in could have been more efficient and cut down from 45 minutes to about 15 minutes

I'm a huge advocate of fewer meetings. Interactions with the people you work with shouldn't be forced into daily status meetings. Meetings are like a tumor in the workplace. They've metastisized into somemthing awful and they aren't going anywhere. So if we must, here are few tips for more effective meetings
Have an Agenda
This keeps the meeting structured and is a good way to avoid going off on tangents. Clearly outlining what is being discussed, will help everyone who is attending know whether or not they actually need to be there and how they can prepare in advance. (See next point)
Make sure the right people are attending
Before inviting everyone on the floor to the meeting ask yourself a few questions: Is this person necessary for the decision-making process? Are they directly contributing to any of the topics on the agenda?
Set time limits and stick to it
This is particularly helpful in meetings where everyone is just giving status updates. Give everyone 2-3 minutes and move on. Otherwise, people will spend 10 minutes stating the same thing in different ways so it sounds better and they look productive. Start the meeting on time and end the meeting on time so I can get back to pretending to be working.
Avoid meetings around lunch time
I once had a colleague that would without hesitation decline any meetings that interrupted his lunch hour. Lunch time meetings are never a good idea. It's very difficult for me to focus when I'm thinking about what I'm getting in chipotle burrito bowl.
One Diva, one mic
You don't literally need a mic, but that might be kind of cool. Just avoid having multiple people talking at the same time.
Stand up
This one sounds weird and will probably be a little awkward the first time around (but then again, aren't most first times awkward?) Standing up will keep the energy level up and the meeting time short – who wants to be standing up longer than 15 minutes.
Follow up post meeting
This is good for a few reasons. If you were the person holding the meeting then you clearly outline the takeaways and this is helpful to everyone who dozed off during your meeting. Explicitly highlight any action items and who is responsible.
I'm sure I'm not the only one who spends an ungodly portion of their day in meetings. So what are something you find effective during work meetings? Or at the very least, how do you keep yourself from nodding off?