Apple's Brand Image: Past, Present and Future

Points)
on 7/31/12 at 7:12pm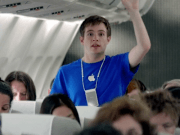 When a company has its own Wikipedia page dedicated to its advertising history, it must be doing something right. For years under Steve Jobs, Apple's clever and inspiring advertisements really made you wonder how much more convenient your life might be with one of its products.
Fast forward to about a week ago, when Apple used the Olympics to reveal its newest line of commercials. Are the ads funny? Sure. Will they inspire people to buy a MacBook like they have in the past? Unlikely.
The new ads aren't about aspirations. They're a defensive move written for the one demographic the company's past commercials always seemed to ignore -- those seemingly hapless middle aged dudes. So they trot out some features -- old dudes like utility, right? -- and try to assure the forty-something male viewer that, yes, Apple cares about their lives too. But by doing it in such a predictable, shopworn way, they're essentially demeaning the audience. They're certainly not inspiring it.
Apple's marketing has been the bedrock of its success and popularity for the past 30 years. Yet is the company's marketing and brand power starting to fade post-Steve Jobs? Here's a taste of old vs. new:
Old Commercials:
!
New Commercials:
Definitely a noticeable difference. If you still need convincing, listen to what marketing whiz Ken Segall, who worked with Jobs and came up with the tags "Think Different" and "iMac," has to say:
It feels like something Best Buy would do. Maybe even Dell. Between the writing, casting, directing and production, this campaign has a very "local" feel to it. It doesn't have the feel of quality that has defined previous Apple advertising.
In the effort to show that the Genius is the most helpful guy in the world, Apple has created customers who, shall we say, are on the dim side. In past ads, Apple has shown "ordinary people doing extraordinary things," simply because Apple products are so easy to use. Now we have thick people who want to be better, but need a Genius to help. Not exactly flattering.
Bad ads happen, and a few cheesy commercials aren't going to make me sell my Apple shares. Also, these ads are directed at a very specific demographic (middle-aged dudes), so Apple isn't necessarily committing to this theme for eternity. But what does this say about the company's direction from a marketing standpoint? Is it better or worse for the stock?
See my WSO blog
"The only thing that interferes with my learning is my education." Albert Einstein