Fear and Control

Points)
on 8/8/11 at 1:13pm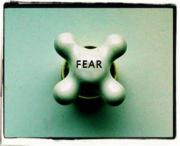 As there is only one thing on everyone's mind today I figured I would talk about something else. Something that is actually a crucial part of today and every day; arguably our greatest enemy and character flaw as human beings.
Fear is the silent killer. Some may prefer to call it tension, anticipation or anxiety but when days like today come around so many people are left shaking in their boots you feel like all the cubicles in your bullpen are having their own little Richter Scale moment.
Obviously, fear is organic and genetically imbedded in all of our psyches, bones and bloodstreams. You can't just turn on tough guy mode and eliminate it. What you can do, however, is let go of the root anxiety which causes it. In reference to the current market carnage, fear and insecurity you can let go of what triggers the fear and nervousness beyond everything else and that is...
Your desire for control. I have been a lot of places in my life and met a lot of different people, but I rarely met as many insecure people as I have on this website. These are not people I have ever seen or spoken to in the flesh and naturally the anonymity offered by the internet allows them to be more candid about their true goals and intentions. It is, however, precisely the need and want of the typical monkey to control his destiny that breeds his fear.
The Life Cycle of Control Originated Fear on Wall Street
1) The Developmental Stage
Maybe you were one of those kids who studied their ass off. Maybe you were a fuck up who got their act together, but at one point working hard to achieve a goal and a result became your Bible, your God, your own personal Dogma. Nothing wrong with that, just sayin'...
2) The Entrenchment Stage
Once results started coming you became a true believer in the worship of control. If you just planned and worked hard enough you'd have everything you ever wanted. Maybe it was getting into Harvard, maybe it was landing the FO at the BB, maybe it was the exit op, the nice pad, the model girlfriend, maybe it was just the humble quiet satisfaction of achieving what you had hoped for. Whatever it was, it got you hooked on control...you thought you had it.
3) The Pain
The pain is today. The pain will exist (depend on who you are, where you work and where your money is) for a while. Maybe a week, a month, a year or a decade. That's the thing about pain, you never really know how much it will hurt or last. The only thing you can know for sure is that it is your own reaction to it that will truly determine the ramifications. For guys who went down with Lehman and Bear, for Raj or for Madoff pain can be something that stays with you forever. The best part of pain, however, is its certainty. You are no longer worried about it hurting, because it does.
4) The Passing
This is the point of my little rant. Everything in life goes away. Eventually we go away. At that point you realize that everything you tried to control was pointless. You still died and the only part you really ever had, is the part which you actually lived.
The need for control breeds fear, because when you think that you can control life...you fear the unpredictable. Life is actually inherently unpredictable, as are markets. So go out there this afternoon and every day after without fear. Lose your shirt. Make a million. But don't be confused about having control, because you don't.
Ironically, once you realize that this is a fact of life, you will enjoy yours more, with a lot less fear about where markets will close today.