Happy Memorial Day 2012!
ST
Points)
on 5/28/12 at 8:00am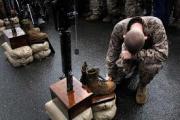 Happy Memorial Day, guys. If the weather where you're at is anything like it is here in Paris, it is unmistakably summertime. Hopefully you're out enjoying it and not stuck in the office. Back home in Louisiana I'd be out on the Tchefuncte River all day barbecuing and partying with friends. But it's important to remember what this day is all about and with that in mind I found the following short video. It's part of a special Lt. Col. Mike Strobl (played to perfection by Kevin Bacon in the movie Taking Chance) did for PBS where he explains what it was really like to escort PFC Chance Phelp's remains to his final resting place. Powerful stuff:
And for those who haven't seen the movie, here is probably my favorite scene from it, where Strobl encounters another escort and discovers something both shocking and beautiful about him:
Enjoy the day fellas. And keep a good thought for all the families who've lost heroes. There have been far too many in the past decade.
Semper Fidelis.