Is that Your Dirty Underwear?

VC
Points)
on 8/8/12 at 10:36pm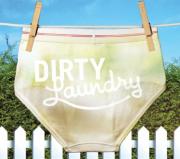 Look, it is your dirty underwear! As a matter of fact, it's your entire bag of dirty laundry hung there for the world to see. Gross. What is that anyway? Is this a picture of you with a dick and balls drawn on your forehead with a marker while you're passed out on the sidewalk after a night of binge drinking? Quelle catastrophe!
While sifting through your laundry, we have also come across some racist jokes you posted on your Facebook wall, a few ignorant rants about a global sensitive issue, your arrest records, your open cases at your juridical clerk office, and your dating profile that has this charming catch phrase. What was this phrase again? "I love feet"? Yes, you sure do love feet.
You see; we are looking for candidates who do not have dirty laundry. But good luck with smelly feet. K?thanksbye.
I find it almost naïve to write about how we should be more careful with our own brands and how we portray ourselves. It is uncanny how simple it sounds and how almost impossible it is to contain, maintain, or even worse, re-build.
Whether we intentionally put our private lives for everyone out there to see or it gets posted through others who share those lives with us, we are making ourselves more exposed to forces we can't control. It sure taxes our well being when we have to worry about an adcom finding our embarrassingly drunken escapades or an employer figuring our white lies.
Unfortunately, I have seen some who are very dear to me get bitten in the batooty by their online presence. From not realizing there is an arrest warrant out for them to stolen pictures of them posted on porn websites.
Of course we can argue and plead innocence and ignorance, but that is not going to change anything; no one, and no organization would want to risk their reputation by association to us under such circumstances. The competition is fierce and the guy next in line has a stellar background check.
It is almost unfair for someone's career or life to be destroyed because of his or her private life, but asking for fairness is like asking for a unicorn, everyone knows what it looks like but no one has ever seen it.
Do yourself a favor and use these to control what is out there about you.
Court records, arrest warrants, etc
http://iapps.courts.state.ny.us/webcrim_attorney/DefendantSearch
Remove an image from image search
http://support.google.com/webmasters/bin/answer.py?hl=en&answer=181721
Remove false information about yourself
http://www.makeuseof.com/tag/how-to-remove-false-libelous-information-about-yourself-online/
How to contact webmasters and site admins
http://whois.domaintools.com/wallstreetoasis.com
Report cyberbullying (yes, it happens to grown ups too)
http://www.stopbullying.gov/laws/new-york.html
Remove a URL from search results
https://www.google.com/webmasters/tools/home?hl=en
Get your annual credit report
https://www.annualcreditreport.com/cra/index.jsp
Also, have some common sense. Works wonders.
I may not be on the Jedi Council, but I sure am great with the Force.