It could happen to you

Points)
on 12/2/10 at 6:13am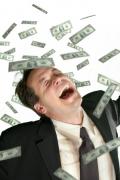 There are myriad reasons to go into finance; some do so out of love, some do it out of spite, some do it for the prestige, while some, the vast majority for that matter, do it for the money.
Thousands of monkeys head down to Wall Street every year, not for the hundreds of thousands they'll be making slaving it out in FiDi or in Midtown, but for the fucking billions they could potentially earn in the future.
But what if the money didn't matter?
I was joking around with some of my friends from college the other day, ragging on one for being such a poof when he mentioned he bought lottery tickets…
"This is MY mbs trade bro, low risk–huge reward."
He said with a fat grin.
"Man, was that a fucking crazy jackpot for Paulson or what? Jeez..."
He added, trying to hide his disbelief.
Out of curiosity, I looked up what was the biggest lotto payout ever and it was a whopping $315,000,000. It went to a businessman from West Virginia named Jack Whittaker. He ended up bouncing checks in Vegas a few years later but that's beside the point.
He took home $114,000,000.
One Hundred and Fourteen Fucking Million.
If that happened to you, would you still be doing the break into banking hustle?
I can easily imagine what the older bankers and traders here would do, that kind of dinero opens a lot of opportunities for them.
But what I want to know is what the undergrads here would do; particularly those who've spent their weekends studying and have dedicated their college lives to the BB M&A to Megafund route.
What will you do?
Will you play Back-Door Mark and make up for all the hedonistic conquests you've missed?
Or will you pull a Paulson and hold your course?
God forbid you Whittaker and lose it within years.
People like Coldplay and voted for the Nazis, you can't trust people Jeremy