Learn To Be A Beauty Queen
Points)
on 7/29/12 at 3:00pm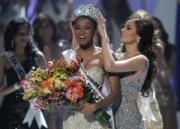 We've all probably seen a clip on TV of beauty pageants such as the Miss USA competition and either a) kept watching because it featured beautiful women or b) thought it was a joke and immediately changed the channel.
The general opinion of these pageants is that they tend to be associated with superficiality and place certain ideals about how women should be judged. However, there are qualities that contestants have which are actually applicable to the corporate world.
Here are 5 tips on how behaving like a beauty queen can help your own career:
1. Do your homework – it'll help you ace your interview
In beauty pageants, contestants have to answer a series of questions along the lines of "if there is one thing you can change in the world, what would it be?"
When you compete in a pageant, from local to international levels, you quickly realize that answering a variety of questions flawlessly is a huge element in the competition. You never know what questions you'll be asked so you have to prepare for anything…it's brains that are the most important aspect when it comes to competing in a pageant as well as competing for a job in business.
Whether you agree with the last line of Ms. Clarke's assessment is up to your discretion, but one thing seems for certain: you should fully prepare for any interview. That means doing research on the company, its competitors, the industry, etc. in order to showcase your knowledge to prospective employers.
2. Be confident
When contestants walk around on stage in front of millions of viewers, they maintain a certain poise and confidence. Confidence is also crucial in the workplace and may just help get you that next promotion.
3. Show off your talent
Pageant contestants spend years honing their talents, similar to how working professionals spend years to learn the necessary skills and gain experience. Sometimes, you need to display your skills and strengths to the company. The article recommends volunteering for job assignments and leading cross – functional project teams.
4. Dress nicely
Ever heard of the phrase, "dress for the job you want?" Use it. Buy clothes to show off your personality and your desire to climb up the corporate ladder.
5. Be positive
If you have ever seen a pageant contestant, she always seems to be smiling. People typically like to associate with happy people so being positive could rub off the right way with co - workers.