Money well spent

Points)
on 7/5/10 at 8:58am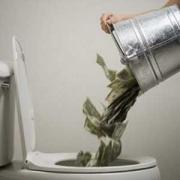 You've worked hard all of your life. You have studied and sacrificed. Now is your big moment. You got the offer. You took it. The hard work has paid off. You bought that suit. Your shirt is so perfectly starched, Patrick Bateman is getting committed. Your cutaway collar so crisp, you could slice cold cuts on it, paper thin. Your Double Windsor so tight, you might as well be granted a duchy and your own family crest.
You sit in your conference room chair along with your fellow noobs as your orientation begins. You can feel the butterflies in the pit of your stomach. You also feel the cool confidence of looking like a million bucks, because at some point in the near future...you'll be sitting on that million bucks and a whole lot more.
Enter Steven Perkins , your training manager. At first you're intrigued by the smell of 50 year old Glenlivet in the air. A few minutes pass and you let out a giggle at the Brit's tirade about Wayne Rooney deserving to spend the rest of his life in a trailer down by the river. Once he begins shaking his finger at a make believe Fabio Capello's secret agenda to murder the Queen Mum, you're in tears and loving every second. But after a while, you are at Nirvana. It is like all the years of preparation finally make sense. It is all clear to you now. It was all a test and you passed. You can finally relax. The good times are here to stay.
After all...if this drunkard can urinate away $10 million per trip to the loo and still be responsible for molding young trading minds like yours, who can really blame you when you FUBAR?
An eerie calm becomes you. Risk, in all its forms...is now...perfectly...manageable.