Naughty New York
ST
Points)
on 2/6/12 at 8:00am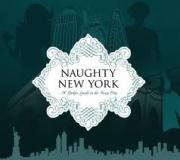 With Valentine's Day right around the corner, many of you are looking for a unique gift for the lady (or ladies) in your life that doesn't include an engagement ring and eventual division of assets. As usual, Uncle Eddie's got your back.
If you're looking for a sexy gift that sets you apart from the other guys she's probably banging, then Naughty New York: A Lady's Guide to the Sexy City is for you. Written by native New York women and edited by Naughty Paris author Heather Stimmler-Hall, Naughty New York is a go-to guidebook to all that is sensual, erotic, and downright salacious in the Big Apple, all from a woman's perspective.
I've read the book, and I have to say that it cast New York in a different light for me. I've never thought of New York as an aesthetically beautiful city (it's hard to beat Paris for that), but the photography in the book is really stunning and showcases New York's feminine side - something you don't see very often.
I caught up with Heather over the weekend and we had a chat about the book. Enjoy:
Eddie: Heather, I loved the section describing the various New York male archetypes. Is one more prevalent than the others? Which do you think New York women prefer? What about gals who aren't native New Yorkers?
Heather: I loved that section, too! I have to say the woman who wrote it is dating a finance guy, so I think she particularly digs the Wall Street types, but like anywhere in the world, all women have their preferences...some wouldn't go near the bankers, other never near the artsy types. And the original text didn't even have the Working Man, although that may be the archetype that we see most in the TV shows: cops and firemen! I think with all of them, women just want the best of whatever archetype she goes for.
Eddie: The theme of the book seems to be that freedom is what makes New York sexy. Can you describe what you mean by this and how New York is freer than other American cities and even our native Paris?
Heather: Unlike most cities I've lived in around the US and France, in NYC no one really cares what you're doing. They're just too much into their own thing to give a damn about your thing. Unless your thing is getting in their way, of course! In Paris we're constantly watching each other, sizing each other up, silently judging, accepting or not. Some people might not notice it, but there's still a strong pull to "fit in" in Paris. Even laid-back towns like Seattle expect something from you. New York just doesn't care, and it's freeing.
Eddie: Naughty Paris was your first book in this series and it was an overwhelming success. How does New York compare to Paris from a woman's perspective? Which city is sexier? New York men or Parisian men? What can a woman do in New York that she can't do in Paris? Eiffel Tower or Empire State Building? Which city has the better Statue of Liberty?
Heather: I wasn't sold on doing NYC right away, it didn't seem very female-friendly to me. But the success (better or worse) of the Sex and the City franchise and of course so many strong female New Yorkers in history, movies, books...the writers convinced me to go for it. I still find it more aggressive than Paris. Women can be more outrageous in NYC, for sure. In Paris, if you stick out too much you become a sort of circus animal. In NYC everyone seems to stick out, so no one does. Not sure if monuments can be compared. The Eiffel Tower would look silly in NYC and the Empire State Building would probably be hideous here. Just look at Montparnasse! I like the tiny Statue of Liberty in Luxembourg Gardens, the one the artist used to drag around with him to show investors what it would look like. Little known fact: The French built a secret tunnel between the Statue of Liberty in NYC and the one on the Ile des Cygnes in Paris so they could smuggle over all of their unwanted "huddled masses" to the New World.
Eddie: You experienced a lot of the sexy side of Paris firsthand when you wrote Naughty Paris. Did you perform the same *ahem* "research" on this book? Any tawdry tales you'd care to share about the naughty side of the Big Apple?
Heather: I did zero research for Naughty New York aside from staying in a lot of hotels. But I did accompany the photographer on several photo shoots, and I must say the New Yorkers can certainly party! It was actually a lot harder to find decent sex clubs than in Paris. The only one included is the Trapèze, and even that wouldn't pass muster in Paris. I think Americans like their sex clubs to be seedy. In Paris they want them to be pretty.
Eddie: The visuals in the book are absolutely stunning. I don't generally associate New York with beautiful cities because it's always struck me as pretty industrial, but Naughty New York includes dozens of amazingly beautiful photos of the city that really made me re-evaluate. Tell us a little about the photography and the photographer.
Heather: I used the same photographer, Kirsten Loop, a Canadian woman who is a good friend of mine. She used to live on the French Riviera when I was down there, and despite looking far and wide in Paris, I couldn't find anyone who understood the vision I was trying to create better than Kirsten. So I imported her to Paris, and then imported her to NYC. We had to use some tourism office stock photos for the park scenes since we shot in February. The models were such good sports, trying to look like they WEREN'T freezing their asses off! She really did manage, despite it all, to do a fabulous job, as I knew she would. And don't forget theBookDesigners, the company who brought it all together with the edgy graphics to capture the NY vibe.
Eddie: Why do guys need this book? Isn't it for women?
Heather: For the same reason you want to peek into her purse or her women's magazines. Men usually have no clue what women really like. This book is a roadmap: where to shop, where to eat, where to drink, where to sleep...it also gives you a *general* idea of how women like to be naughty without being vulgar. At least in public. When you first meet a woman, you may want to be fun and flirty, but there's a fine line between taking her to a seedy porn shop "to liven things up" and a burlesque show. A shop like Coco de Mer is so gorgeous, your wife could hardly think you're a pig if you take her there and let her pick out what she likes! Of course, you could just get her this book and then she'll think it was all her idea to go to the One Leg Up party! For NYers, it helps to know how women from the "outside" see you. And for men who have never been to NY, it explains why women get off so much on the vibe (it's not just the Shoe Department at Barney's...it's also those tailored suits, mmmm.)
If you guys are looking to make the gift really special and you're willing to pay FedEx charges from Paris (so that it arrives in time for Valentine's Day), Heather will send you a signed copy personally inscribed with a message for your wife or girlfriend. PM me if you're interested and I'll put you in touch with Heather directly.
And if you have any questions hit me with them in the comments.