Stephen Covey 1932-2012

Points)
on 7/21/12 at 2:30pm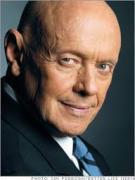 I wanted to take the time to write a post about someone that isn't talked about much on this website. Stephen Covey, a management guru who died on July 16th, was one of the most successful management gurus ever. His book, "The 7 Habits of Highly Effective People" was something we had to read in my Strategic Management class and has sold more than 20 million copies; three of his other books have sold at least 1 million copies each. His Covey Leadership Centre (now part of a firm called FranklinCovey) claims to have had three-quarters of Fortune 500 companies as clients.
His seven habits of highly effective people seemed pretty obvious once you hear them. So much in fact, you'd think they were coming from an infomercial at 2:30 in the morning.
Be Proactive
Begin with the end in mind
Put first things first
Think win-win
Think first to understand, then to be understood
Synergise: learning to work with others to the benefit of everyone involved
Sharpen the saw: keep yourself physically, mentally and spiritually refreshed through such things as exercise, reading, prayer and good works
Nowadays, it seems to me that everyone is claiming to be a genius in this category and the number of management help books out there shows it. Now that he has passed, who do you think is the next big management guru?