The Money Leagues (Part 3): $tadiums

Points)
on 7/23/12 at 10:30pm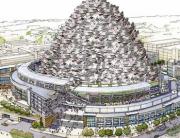 How do professional sports teams make money? If you think about it, teams make money from their players , from their fans, and from their stadiums. For the next three weeks, I will discuss these three topics. Today, let's focus on the most tangible of these money makers, stadiums.
Since the development of professional sports in the early 1900's, the stadium has evolved into a megalith of modern culture. Stadiums are designed to inspire, to make people say "wow." They are designed to get as much money out of our bank accounts as possible.
Stadiums generate value in several ways: sponsorships, game day sales (tickets and merchandise), construction subsidies, hosting other events (sports, concerts, wrestlemania, etc), and, more intangibly, through the owner's networking opportunities. For the purpose of today's discussion, I will focus on stadium naming rights, premium ticket sales, construction subsidies, and briefly mention the owner's networking opportunities.
Stadium Naming Rights
Selling stadium naming rights is a big business. The largest contracts are worth hundreds of millions of dollars, and span decades. As you could imagine, the ROI on these contracts is especially hard to determine. Just how many flights did American Airlines sell because of American Airlines Arena?
Thats a question for the advertising and branding experts (it would definitely be interesting to hear their thought process). There is one thing we should all be able to agree on, owning the naming rights to a stadium provides the opportunity for signficant exposure and brand awareness. Millions of people each year walk into the stadium (for some stadiums, only hundreds of thousands), countless more see it as they drive past it on a highway, and yet even more hear the name on the radio or TV. Living in DC, it is hard to go a few days or more without hearing "FedEx Field" or "Verizon Center" mentioned in some context.
How much is this branding worth? That depends on the team/s that use it, and more importantly the market the stadium is in. New York holds three of the top five stadium naming rights deals, all of which generate $10 million or more per year.
If teams can get $10 million a year for the naming rights, then why don't all teams have corporate sponsored stadiums? Some teams can't find a sponsor that is willing to pay (Dallas Cowboys), but for others the answer is more complicated.
For example, take the Chicagor Bears. In 2001, the Chicago Bears were hoping to score a large contract for renaming soldier field. What happened? Citizens and politicians decided that Soldier Field should stand as a tribute to America's armed forces and veterans. An extremely thoughtful gesture, but I think ones the Bears regret (they could have negotiated at least a $200 million contract). Instead of having a corporate sponsor for the stadium, the Bears just have a corporate sponsor, Bank One. Since 2003, we have been enjoying Bears football by Bank One.
What about the New York Yankees? Without a doubt, they could have negotiated a huge contract (as they are not only one of the most popular teams, but are in one of the largest markets). Would a Yankees game be the same if you weren't watching it in Yankee Stadium? In this case, the history of the team has an intangible value that would be lost if the stadium had a corporate name (but come on, I know you monkey's would love watching the Yankee's play in the Goldman Sachs Stadium).
Who wins in the stadium naming rights contracts? In most cases, it is a win win. The team gets a steady form of revenue, and the corporation gets a huge advertising campaign. For one special stadium, the corporation clearly got the bigger piece of the cookie.
The contract for Staples Center, home to the Clippers, Lakers, and Kings, was originally negotiated at $116 million for 20 years. Let's see what Staples got out of it...

more than 2,500 sports and entertainment events in its first 10 years of operations, the stadium had more than 38 million visitors.
Quite the bargain, especially for this season, when the Clippers, Lakers, and Kings were all in playoff games hosted at Staples Center.
Premium Ticket Sales
Have you ever been to a game in a box or club level seats? If you haven't, I'm sorry. From nicer seats, to better food, to the opportunity to walk on the field, the people who pay for premium seats get a premium experience (another perk is bathrooms that don't smell like death). Aside from a different experience (not necessarily better, I'd prefer lower level 50 yard line seats), premium seats also deliver a different level of revenue.
How much do they earn? The Redskins, Jets, Giants, and Cowboys all generate an estimated $90 million plus per year. The Redskins generate most of this revenue from expansive club seating. FedEx Field features some 17,000 club level seats, which average for $3,350 a year. On the other hand, we have the Giants and the Jets. MetLife stadium has 213 private suites, average annual cost $494,000 (more than 5x the average cost of 10 NFL teams). So yes, there is something for you to spend money on once you make MD.
The real winner in premium seating is the Dallas Cowboys. 300 suites, and 14,000 club level seats generate more than $130 million in annual revenue. That represents about 1/3 of the Cowboys' annual revenue, and more than 50% of the annual revenue of all but the eight most valuable teams (Redskins, Patriots, Giants, Jets, Texans, Eagles, Bears...Cowboys being #1).
Stadiums are designed to maximise revenue, and maximising premium seating revenue goes a long way. Even if the Cowboys sold their remaining 60,000 seats for $200 a pop (they really sell for $110 average), the Cowboys would still generate more revenue from premium seating than from traditional ticket sales.
Over the next few years, look for soon to be opened stadiums (Barclays Center in Brooklyn, the planned LA stadium, the new Vikings stadium) to prominently advertise their premium options. Also look for teams with older stadiums complete renovations to expand premium seating. It doesn't end with professional teams, colleges renovating stadiums have added box suites and club level seats in order to increase revenues (Mizzou adds 1000 premium seats).
Stadium Subsidies
Nearly every professional stadium had some kind of public financing assistance. This is usually done by the sale of public bonds, but sometimes accomplished through new taxes. I will try to avoid the political aspect of this issue, and instead focus on the impact subsidies have on teams and their owners.
Let's start with this, publicly financing a new stadium or renovation saves team owners hundreds of millions of dollars. The Washington Nationals are finally one of the best teams in baseball. But what would they be without their publicly funded stadium? The city of DC sold some $500 million in bonds for the construction of this stadium. It is nice to note that part of these bonds will be repaid through stadium generated revenues. However, another part of the bonds will be repaid through a tax on DC based businesses.
The Minnesota Vikings are another great example of public financing success (in the eyes of the owner). Their $975 million stadium, expected 2016, will have more than 50% of its cost paid by the taxpayer. Compared to their rivals, the 49ers, whose new stadium will only receive 12% public funding, the Vikings received the better bargain.
Besides the millions of dollars in savings, what else do stadium subsidies do? The biggest impact subsidies have, is that they create a powerful bargaining tool for owners who want a new or renovated stadium (so that they can generate more revenue through improved seating, pricing, and merchandising). Here's food for thought, the Oklahoma City Thunder would not have made it to the NBA Championship if stadium subsidies did not exist. Why not? Because OKC would have remained the Seattle Supersonics. Howard Schultz, the prior owner of the Supersonics, was unable to pursuade the city of Seattle to provide funding for a renovation to Key Arena. He subsequently sold the team to a group of investors led by Clayton Bennet. Bennet then tried persuading local governments to build a new a new arena, and when they refused he decided to move the team to OKC. In 2008, Oklahoma City approved a $120 million renovation of the Ford Center (now Chesepeake Energy Arena), and the Thunder found their new home.
Team owners have the ability to threaten a move to a new location if their current city will not provide public financing. Should cities be scared? Yes, because if they won't provide public funding, there is another city that will.
What should be interesting to watch over the next four years, is what team will relocate to the new NFL stadium being built in LA or if the NFL will create a new franchise. Right now, the smart money is on San Diego moving to the new stadium. We know it will be one of the leagues nicer stadiums (and will generate the 2nd most premium seat revenue). I can imagine a few teams using this stadium as a bargaining tool for their city to subsidize a new stadium or stadium renovations.
Professional Networking
As I mentioned in last week's blog post, team owners are highly successful businessmen. The reason why they can spend hundreds of millions of dollars on a sports franchise is because they have earned a few hundred million doing something else. This brief section will be on an intangible benefit team owners experience, professional networking with other businesspeople and politicians.
Who purchases the premium seats I mentioned above? Businesses, for entertaining employees and clients, and the wealthy (presumably sucessful business people). These are the kinds of people who can help team owners earn more money than they already do. Either from one of the suite buyers becoming a future sponsor of the team, or from a seperate future business arrangement. It is impossible to know how valuable these people are to the teams and owners. But do they have value to team owners outside the money they spend on tickets? Of course they do.
Who else sits in these premium seats besides business people and the wealthy? Politicians. Do you think it would be harder or easier to get a law past your city council if you could talk to a councilmember while watching your team play? I would imagine it would be easier, especially if that council member is a lifelong fan. It is not only local politicans who go to games, governors, senators, representatives, and even the president attend games. Do you think team owners let these officials sit in their stadium without exchanging a few words? I doubt it.
What do you think about this? Is there a large intangible value to having business people and politicians attend your teams games? I definitely think there is, especially in certain markets (ie. business in NYC, politics in DC). If you were a team owner, would you use your position to schmooze with politicans who are attending your games?
In summary, why are stadiums important? To quote Forbes,

Stadiums are the primary determinant in the pecking order of football team valuations because the sport's $4.3 billion in national media fees are equally divided among the league's 32 teams, while revenues from premium seating and stadium sponsorships are not shared. The team owners keep what is left over after financing and operating the stadium.
Next week's preview: Are you a Fan or a Fanatic? What is the value of a sports fan?