The Two Sides of Obesity
O
Points)
on 6/18/12 at 8:00am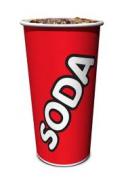 Obesity is a painful, emotionally-charged issue. I have never been obese myself (even though I'm a bit chunkier around the waist than I used to be), but I've been around enough overweight people (friends, family, ex-girlfriends, etc.) to be intimately familiar with the pain and suffering that usually goes with being obese.
The issue of obesity and what to do about it was recently explored in a Bloomberg BusinessWeek article by Charles Kenny. Mr. Kenny wrote that America is the world leader when it comes to obesity, but our supremacy in this area is being challenged by other countries. (Can't we be number one in anything?)
I believe that obesity brings with it two issues that need to be addressed separately. In one corner is the health perspective. An overweight individual is more susceptible to a wide range of illnesses than his or her thinner counterparts. In the other corner is the self-esteem perspective. Overweight people are criticized for lacking willpower and not living up to an unattainable standard of beauty. As a result, concern about one's health is often interpreted to mean a rejection of that person's character...and who that person is as a human being. From my perspective, someone's weight tells me next to nothing about that individual.
I'd like to think that when someone meets me for the first time, only a small piece of my personality is unfurled. An interested party would need to devote months, years, if not decades, to discovering even a small percentage of who I am...as with anyone else, many assumptions about me--my interests, my introspection, my opinions, my quiet nature, my awkwardness in certain situations, my relationships at home and at work--have many unique layers, like fingerprints that can only be traced back to me.
Anyway, I digress. Mr. Kenny ended his article by reporting on New York City mayor Michael Bloomberg's fight against obesity:
In 2003, near the start of Mayor Bloomberg's campaign against fat, New York City banned sweet drinks from schools. Perhaps partially as a result, obesity rates in public school kids have fallen by 5 percent in the last four years.
This explains Mayor Bloomberg's recent enthusiasm for wanting to limit the size of a cup of soda that a vendor can sell. What works in school should work with the general public, but an important difference exists. Unlike the school system, the mayor has no control, or should have no control, over the business decisions of non-government controlled entities...even when I disagree with some of the decisions that these businesses make. The mayor's heart is in the right place, but rather than tell me what I should do, why not educate me and let me make that decision for myself?