Best route to Transaction advisory?
Points)
on 8/17/12 at 5:00am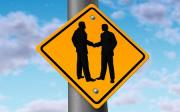 Hi all,
First post here. I am currently in audit at one of the Big 4 and am interested in eventually transitioning to transaction advisory services, specifically accounting due diligence for M&A and perhaps later, some valuation work. What is the recommended path to doing so?
- How many years should I put in audit?
- What are some of the relevant skills from audit that I can use in due dilligence, besides being familiar with the financial statements?
- Do I have to have top ratings? What if instead of 1's, I'm getting 2's - is that sufficient?
- What is the process of making the switch? i.e., what bureaucratic things do I need to worry about?
- Is it generally easy to make a switch within the firm, or is the swtiching firms completely path more common?
- Can anyone who has made this switch comment on their experience?
Thank you for your input!