ELITE MODELING PACKAGE
The Wall Street Oasis
Introducing...
300+ detailed video lessons, 50+ modules, 30+ exercises across 6 jam-packed courses taught by elite practitioners  
To Help you Thrive in the Most Prestigious Jobs on Wall Street...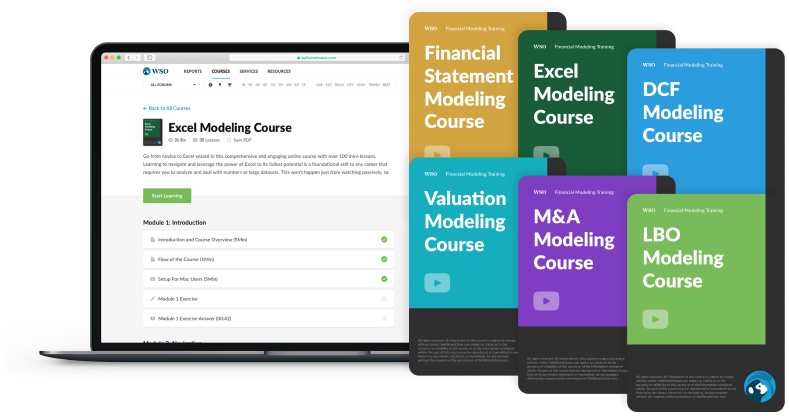 HERE'S JUST SOME OF WHAT YOU'LL GET IN THIS PACKAGE
Excel Modeling Course (110+ video lessons)
In this course, we take you from a beginner in Excel to an absolute Excel master with over 100 lessons to help make sure you build a proper foundation for the more advanced financial modeling courses later.
Financial Statement Modeling (60 Video Lessons)
In this course, we use 60 video lessons and a case study with Nike, Inc. to walk you through how to build a fully functional 3-statement model.  This includes a robust capstone exercise to make sure you are comfortable applying what you learn to any other company.
LBO Modeling Course (115+ video lessons)
In this course, we continue with our Nike, Inc. case study and walk you through a complex LBO Model with over 115 video lessons, and cover critical concepts for private equity professionals.  Includes up to date modules on taxes, recaps, rollups and more... so that you can gain every edge and aren't learning from outdated courses.   
Valuation Modeling (170+ video lessons)
In this course, we use 170+ video lessons to help give you a strong foundation in both trading comparables analysis and precedent transaction analysis with a realistic case study using Nike Inc. ...so that you can understand the nuances of valuation on the job and how an actual investment banker uses these analyses in the real world…
M&A Modeling (60+ Video Lessons)
In this course, we use 60+ video lessons to help give you a strong understanding of purchase accounting and modeling for M&A transactions using Nike Inc. as our case study ...so that you can understand the nuances of M&A on the job by learning directly from an elite M&A investment banker…
DCF Modeling (50+ Video Lessons)
In this course, we use 50+ video lessons to help give you a strong understanding of DCF Modeling using Nike Inc. as our case study and unpacking this common valuation methodology so that you can truly understand both the theory and practical uses for the job…
Our students have landed and thrived at positions across all top Wall Street firms, including:

Video Preview
Grid items
Trading Comps Analysis Output
Cash Flow From Operations
Financing Assumptions: Leverage Ratios
Calculating Cash Flow Available for Debt Service
Don't Take Our Word For It
Hear from a few of our 57,000+ students...
"Before completing the program, I had little/no experience with LBO Modeling, private equity, or buyside advisory. The program taught in a very clear and concise way how to understand a company's rationale and incentives to complete an LBO, and from the very beginning it pushed me to further develop my accounting and financial statement analysis skills. From then on, it provided a well-rounded examination of an LBO in that it dove into each key component of the model and explained it with the perspective of a PE firm and helped us understand the meaning behind each figure, as well as the technical and Excel skills to work with the model. Again, another fantastic job by WSO!"
"Compared to other courses, these courses overall gave a much better context of when and how modeling is used, and what cash truly represents, which is something I learned the hard way. I found the instructions in the courses to be very clear. I'd definitely recommend anyone looking to take a comprehensive course on financial modeling." 
"Shooting you a quick note because I just got my full-time offer and I wanted to say THANK YOU!  I have to say the instructors for these courses are super talented.  From Excel to financial statements to Valuation I was really able to go into my internship ready to go and more confident after taking the time to go through these."
​​"I'd taken another Excel course before but this was much more relevant to me since I was trying to break into investment banking when I took it.  I love that you can download the lessons for offline viewing on my commute...thanks for putting this together WSO!"
"Glad to say that this has definitely been one of the more detailed Valuation courses yet. Very useful to see how 'spreading comps' is applied to Companies from many different areas ranging from fashion to wearable tech to luxury brands. Good to see the objectives outlined early on and sufficient introductory lessons to ensure newcomers are able to get up to speed with ease."
"guys, this Excel Modeling course was awesome because it made Excel fun (or at least much less painful).  Even though in my internship they rarely let us touch the models, I definitely think this course helped me impress the analyst I was working with most of the summer and helped me secure a full-time offer.  when he asked me to organize some data in Excel for a buyer universe, I think he was pleasantly surprised that I turned it around in under 2 hours and had it beautifully formatted with some bells and whistles.  you guys rock, thank you!"
"Regarding the Financial Statement Modeling course, I don't have a traditional finance background and have had limited exposure to financial statements so this was all very new, but necessary and fun for me to learn. I really like Zack as a teacher, he is relatable and take these somewhat daunting concepts and breaks them down into easy to digest pieces that make the experience fun and enjoyable. The ability to rewatch and relearn the topics on this module was really helpful. My favorite part of the module, however, was the capstone project. It's a great exercise and to put together a financial model on my own, knowing I can go back to these videos for help, is really empowering, especially as a student. The detail and the care that was put into it really stood out, and I know that I have learned amazing skills from this that are going to help me in my internship this summer, but also long after I graduate university. This is a great course 10/10 would recommend!"
"I took the Excel Modeling course as a way to try and get faster in Excel and I have to say it has made a big difference.  Not that I'm the traditional student since I'm a bit more senior role at a Big 4, but it was still really helpful for me and made me more confident when reviewing work from clients and my team.  I don't think I need the other financial modeling courses since I'm happy with my role, but you never know.  Thanks WSO, keep it up!"
"Regarding the Excel Modeling Course, I thought I was an Excel whiz before, but now I know I am because I was able to do the exercises fast enough... but it did take some time.   The lessons on conditional formatting, pivot tables, etc were also all relevant to what I did in my F500 internship and my boss definitely noticed my skills when I didn't touch my mouse.  I'm excited to try and land an IB internship next year."
"I think the instructor of the LBO Modeling course did a great job of giving an overview of what an LBO is and how each input impacts the resulting IRR and Cash/Cash returns. I have taken a similar course and preferred this one because it provided a wealth of information without going into the weeds. This course has given me a great understanding for going into my summer internship."
" The personal tips and alerts on best practices are what differentiates this Excel training course from the other training courses I've had in person. A lot of these tips are shortcuts I often use at work on a daily basis, but was either taught by a coworker on the job or by myself, and taking this course would've saved me a lot of time in having to figure out best practices by myself at work.  This course doesn't skip over anything, and I think it was especially important and helpful to dedicate full, comprehensive videos to educating people on lookups and data tables. I have definitely learned tips that will help me become more efficient in Excel, and I'd definitely recommend this course for everyone, especially students recruiting, individuals wishing to learn a solid foundation of how Excel is used, or people who need a refresh on Excel."
"I think it was really important that the narrator of the LBO Modeling course took the time to go through definitions and explanations of the key concepts and terms that you would need to know in building an LBO or researching the aspects of one, which the course did without giving it unnecessary frills."
"I must say that you guys have done a great job. This is definitely better than the other Excel course out there, ranging from simple and clear instructions to the breadth of functions covered. I even managed to implement the shortcuts I learnt over the weekend at work today!
Also loved the animated monkey - helps makes things lighter and definitely makes the course more informal and fun :)" 
"I found the Excel Modeling course incredibly helpful and with this being the second excel course I have done, and it was by far a lot more comprehensive and a lot more enjoyable than my last course. Zack was great right from the start. It was really cool to have a personable, funny, and honest teacher. Right from the getgo he really made me excited for the course and throughout his anecdotes and honesty about what needs to be known in excel in the workplace was great. The content was great as well. I really liked how it was split up into sections and within each section, there were clear objectives on what we had to learn. Overall, this was a really great excel course, I felt challenged, but I also felt like it was easy and fun to learn. The WSO Advanced Excel Course really gave me the confidence to go into my internship this summer and hit the ground running in excel. " 
"I thought the Excel course was fantastic. Zach is an excellent teacher who does a great job both showing and explaining the content in each module. After this brief course, I feel much stronger in Excel and have all the quizzes to keep practicing. A must-have for anyone wanting to work more efficiently in Excel".
"The Financial Statement Modeling course is an excellent resource for aspiring or incoming financial analysts. This course pairs excellently with the WSO Excel Modeling course. The two combine to form a powerful training program that I would highly recommend for all aspiring/incoming financial analysts, particularly those interested in investment banking. Zack, the instructor, does an excellent job of walking you through the entire process in an efficient manner that touches on all the important aspects without getting bogged down in the details too much. I cannot recommend this course more highly!"
"Overall I really enjoyed the Excel Modeling course and believe it taught be various skills which will be applicable and save me time on the job. It went above and beyond the excel based courses I have taken at my university, and gave me the specifics for what I need for investment banking. This course was definitely worth the time it took to complete and am looking forward to doing more Wall Street Oasis courses in the future!"
"Fantastic. A great way to follow the Excel Modeling course - applying the concepts and tools learned in extremely useful ways. I particularly liked Module 7 (Debt & Interest Schedules), as I am a VP in my student-managed investment group at Emory working with our fixed income fund, and the tools learned in there will be very useful to share with my team members" 
"I thought it was one of the most informative valuation modeling courses I have taken. I would recommend this course over others I have taken."
"I'm very impressed with the Excel Modeling course! What stands out to me the most is how much knowledge is packed in to such a small timeframe. Other courses with this level of detail are ~3-4 times as long. It has a clean and professional layout and is easy to follow. The presenter is clearly quite knowledgeable and provides useful tips and insights throughout each lesson that are applicable in the workplace. The end-of-module exercises are simple and straight to the point and the accompanying answer videos are helpful and beat going back through each lesson to see where you went wrong. I'm really happy that I've taken this course and do believe that, whether you are a university student/intern or entry level professional, you can certainly get some value from this. Unlike other courses online this is one you can do over the weekend and bring those new skills to work on Monday.
"The LBO Modeling course is fantastic. It is an excellent mix of presentations to help the teach the fundaments of LBO, while going into plenty of detail to ensure understanding. The accompanying LBO template is an excellent way to test what you have learned as you move throughout the course. I can already tell the course is a must have for anyone going into IB or PE interviews that want a higher level understanding of LBOs. The course is organized and taught very well. It has a comprehensive powerpoint presentation going over the fundamentals technicals of an LBO, accompanied by an in-depth LBO model to work on throughout the course. With additional bonus modules, the course has more than enough to make people feel like LBO pros. I would certainly recommend this LBO course in conjunction with the other WSO course, and believe it does an excellent job at teaching LBOs
"The Wall Street Oasis Valuation course is by far the most in-depth look at valuation I have come across in my academic/professional career. The course goes far beyond the basic concepts taught in the classroom and gives you a front row seat into what an analyst does on the job and how they value a business in the real world. You'll learn the best practices to become a high performing analyst and you're provided with plenty of real-world examples to practice with. If you're interested in a career in investment banking/valuation there's no better resource out there to get you ready to hit the ground running and give you a head start on the competition."
Get 6 Distinct Course Certifications
After completing each course, all students will be granted a WSO Modeling Certification for that specific course.   Use these certificates as a signal to employers that you have the technical skills to immediately add value to your team. 
Demonstrate that you have put in the work outside of university courses to make yourself more efficient and master the most critical modeling skills for success in finance careers.  Easily share to LinkedIn and other social media sites to strengthen your profile as a candidate.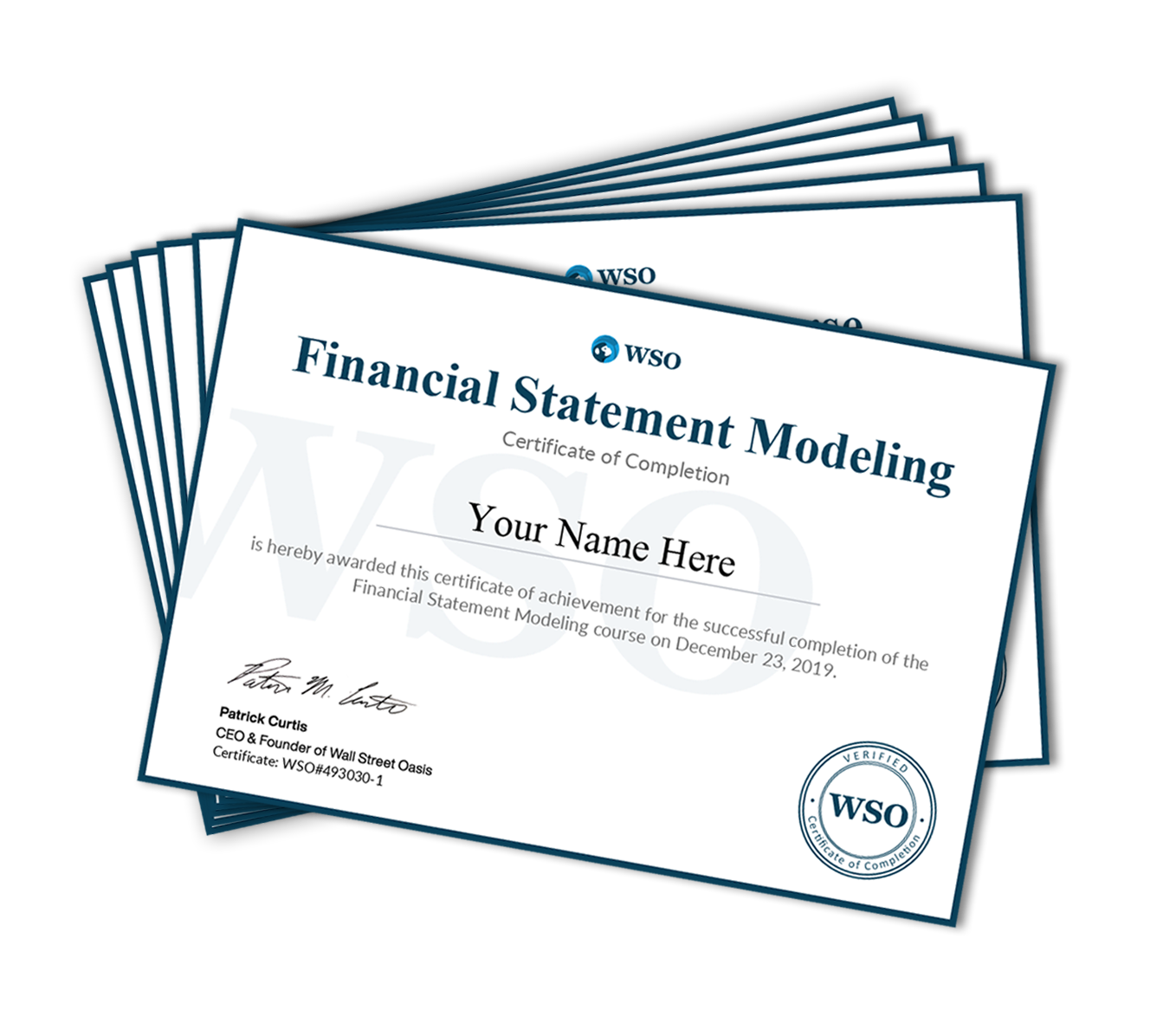 How Much is Your
Finance Career Worth?
What You Get

Value

WSO Excel Modeling Course

110+ video lessons across 13 Modules taught by a top-ranked bulge bracket investment banker...

$97

Financial Statement Modeling Course

60+ video lessons across 9 Modules taught by a top-ranked bulge bracket investment banker...

$197

LBO Modeling Course

115+ video lessons across 14 Modules taught by a top-ranked megafund private equity associate...

$297

Valuation Modeling Course

170+ video lessons across 19 Modules taught by a Top-ranked BB investment banker + an elite PE pro...

$197

M&A Modeling Course

60+ video lessons across 10 Modules taught by an elite M&A investment banker...

$197

DCF Modeling Course

50+ video lessons across 7 Modules taught by a top-bucket bulge bracket investment banker...

$97

Bonus 1: 18 Mini Courses (Lifetime Access) + WSO Video Library (12mo Access)

Access to 100+ videos including 18 mini courses (avg 3hrs of content each!)

$497

Bonus 2: WSO Company Database (WSO Premium) - 12 Month Access

24,681+ interview insights, 51,233+ exclusive salary and bonus datapoints + 20,127 company reviews...

$297

24 Months of Unlimited Elite Support from Actual Finance Pros

Have a technical question? Easily drop a comment into any lesson and get a response from a pro within 48hrs.

$197

6 Months of FREE Access to Macabacus

Full access to this Excel plug-in that makes financial modeling even easier, including tools for PowerPoint and Word.

$120

TOTAL VALUE

$2,193
1
Consider this your first investment
in a long career...
After all, you've likely already spent tens of thousands of dollars on college (and perhaps tens of thousands more on an MBA)... When you start your coveted finance job,
you'll be making well over $100,000...
...over $200,000 if you have an MBA...
And that's just the beginning of a long and very LUCRATIVE career that could easily net you millions...
---
We could easily charge thousands of dollars and your ROI would still be huge…
At a fraction of that price, the ROI is even better... When you do the math, it's a no brainer.
And that doesn't include the time you'd have to spend figuring all of this out and the hours of sleep these courses will save you. 
Even if you used the free info online, you'd still have to find it, organize it, vet it and test it to get it to work.
That would take months… and at that point, you may have missed your window.
The WSO Elite Modeling Package gives you everything you need to be super-efficient and master financial modeling… quickly and easily.
But we're not going to charge you thousands...
$2,193
We won't even ask for half of that...
$1,097
Instead... 
Get Unlimited Lifetime Access To The WSO Elite Modeling Package For 77% Off
$2,193
$497
...or get access today for only $170 (3 monthly payments)
Secure checkout
100% Unconditional Money-Back Guarantee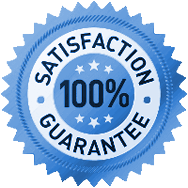 12 Month Risk-Free Guarantee
Your investment is protected by our 12-Month Risk-Free Guarantee -- the most generous in the market, BY FAR.  If, for any reason, you don't think the WSO Elite Modeling Package is right for you, just send us an email, and we'll refund every penny. No questions asked. In short, you get a great return on your investment, or you get your money back. It's that simple.  Yes, we are that confident.  We know that if you put in the time, this package will dramatically improve your skills.