Christmas Musings

AM
Points)
on 12/22/10 at 7:43am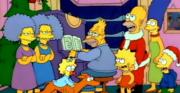 Perhaps the best Yuletide decoration is being wreathed in smiles. ~Unknown
Seeing as the Holidays are upon us, I thought it would be a nice reprieve, as I have in the past this year, to take a moment out of the secular world we live in and find a way to charge our spiritual batteries. Between the holiday parties, dinners, gifts and bonus season, we forget what the true meaning behind the winter season is all about.
Calvin: Well. I've decided I do believe in Santa Claus, no matter how preposterous he sounds.
Hobbes: What convinced you?
Calvin: A simple risk analysis. I want presents. Lots of presents. Why risk not getting them over a matter of belief? Heck, I'll believe anything they want.
Hobbes: How cynically enterprising of you.
Calvin: It's the spirit of Christmas.
"Oh look, yet another Christmas TV special! How touching to have the meaning of Christmas brought to us by cola, fast food, and beer.... Who'd have ever guessed that product consumption, popular entertainment, and spirituality would mix so harmoniously?"
~ Both are by Bill Watterson, the creator of Calvin & Hobbes
I cannot help but take Bill Watterson's words to heart. We have commercialized this holiday beyond what it really is. We have taken what Christmas truly means and distorted it into a much more commercial bastardization of what this time of year is all about. We have turned it into a secular holiday dedicated to the cynical belief of presents (or whatever you feel like substituting into Calvin's viewpoint) and that has become the newfound de rigueur belief that we hold this time of year to mean.
In order to understand what this season is about, we need to understand what the season is not about. It's not about bonuses. It's not about defending bonuses. It's not about money. It's not about anything that we consider material. It's not about bullshit we see daily and we put ourselves through. It's not about how much we make or how we can try to defend our total compensation and earnings. It's not about what we are spending our money on, how we plan to spend our end of the year paycheck or what we think each and everyone one of us has done to deserve what we are being paid. It's not about what our individual "fuck you" number are. It's not about what our individual problems are and how we plan to fix them. At the end of the day, we are so consumed with the material world that we forget everything important to our spiritual happiness; instead of focusing on what is truly important, our personal and spiritual happiness, we focus on using everyone for our own means, looking to make another buck or two instead of being content with what we have.
This holiday is not about the normalcy of life we live either. It is not a time to be commercial, to ask for things we do not need and to spend frivolously on "stuff". Christmas is not about the bullshit we naturally put forward. We tend forget about that around this time of year. We tend to forget about all the important things and look to the secular nature of life instead focusing in on what is truly important.
I have always thought of Christmas time, when it has come round, as a good time; a kind, forgiving, charitable time; the only time I know of, in the long calendar of the year, when men and women seem by one consent to open their shut-up hearts freely, and to think of people below them as if they really were fellow passengers to the grave, and not another race of creatures bound on other journeys. ~Charles Dickens
Dickens really hit the nail on the head here folks. Christmas is a time for opening up our hearts to help those around us. It is a time for us to put our material views to the wayside and take the time out of our own busy lives to donate to charities, find ways to help people and just reach out to our friends and family no matter where we may be, no matter how far they may be from us, and share with them wishes for good tidings, good health and good spirits.
Christmas is a time for reflecting on our own lives and searching for our own ways to impart good will and good tidings unto those around us. It is a time for us to step back from the work life and surround ourselves with family, friends or coworkers, find a bit of time to quietly reflect and rediscover why this season is meant for sharing with others, opening our hearts and caring for those around us. We have, in our quest for wealth, forgotten what true happiness is and how helping someone can do more to help ease our weary spirits and recharge our soul than buying a new car or a fancy watch will ever do.
Take it from a bitter and jaded scrooge and trust me when I say that without recharging your spiritual batteries, you start to hurt emotionally and mentally. Christmas is always a time to wish for the spiritual happiness of men. There is a reason we wish for good will towards men, peace on earth and ask for requests of a selfless nature. Christmas is a time to remember that the good will, respect and warmth of humanity important to our happiness and well being. We open our hearts instinctively without any regret. We open our minds to the belief that we have the potential to bring good to those around us. We open our souls to the endless possibilities of what good will and good tidings can truly bring and how they can change even the staunchest of curmudgeons into the warmest of friends. For those with no faith in the world, for those who have lost their spiritual way and for those who have given up trying to find it, Christmas is a time to step back from the world around you and find yourself a small oasis from the world to reflect on what you can do to bring even an ounce of happiness to someone less fortunate than you, to bring, if even for only one day, just a small amount of peace on earth and good will towards your fellow man.
For those of you stuck in the office, find out who you will be stuck there with and plan something small in order to make the best of your time stuck inside, with people that are your work family. Open yourselves up to the possibility of sharing this holiday together. Plan a small meal that you can treat as a Christmas feast and take the time to share the meal with those around you. Find a way to bring the Christmas spirit into even the most dreary and downtrodden places. Find a way to bring good will and joy to your coworkers, your family or some bum on the street. If you really want to spread some holiday joy, take a page out of CaptK's book and find a microfinance/microcredit group that you want to donate to in order to help someone make their own good tidings or do what a friend of mine does and pulls out all of the cash he has and gives to a random homeless person on the street. Find a way to make a difference during the one time of year where it truly matters. Find a way to help someone and enjoy just a little bit of spiritual happiness instead of material joy. Find a way to celebrate the true meaning of Christmas in your own way.
Best wishes to all you monkeys, be it off for the holiday or stuck in the office, for a Merry Christmas, a Happy Hanukah and Wonderful Winter Season. Let me leave you with some closing bits of wisdom.
I heard the bells on Christmas Day; Their old, familiar carols play; And wild and sweet; The words repeat; Of peace on earth, good-will to men!
~Henry Wadsworth Longfellow
Christmas is not a time or a season but a state of mind. To cherish peace and good will, to be plenteous in mercy, is to have the real spirit of Christmas. ~President Calvin Coolidge
Christmas is the season for kindling the fire of hospitality in the hall, the genial flame of charity in the heart. ~Washington Irving