Does bad economy = less competition for B school?
Points)
on 6/13/12 at 3:00am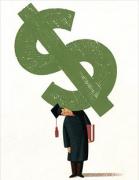 I've been wondering about this for a while and wanted to hear what you guys think. Here is my thinking:
1) You need substantive experience to get into b-school
2) Because of the poor state of the economy over the past few years, and arguably for a few more to come, there are/will be less opportunities for talented people to gain the experience they need to be competitive for b-school
3) Thus, the lucky people who do have jobs where they can gain the necessary experience will face less competition for entry into b-schools.
This is of course assuming that b-schools don't offset the falling numbers of young domestic applicants by letting in more older or international applicants.