How to not suck at phone interviews

O
)
on 4/9/13 at 9:15pm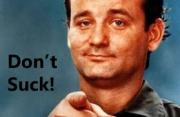 I've conducted hundreds of phone interviews, more than i'd like to count. here's some advice i'd like to pass along, some of it (most of it) is pretty common sense, but i still get these mistakes. please feel free to add to the list, i'm sure i've missed some.
General calls:
-usually I call the intern/job applicant, but if you're calling me, CALL ON TIME. if the call is 11am, 11:00-11:03 is fine. anything beyond that is pushing it. 11:15? don't even bother unless you have a really good excuse
-I can't stress this enough, get your time zones right, you already know i'm in et, if we agree on 12:30, know that I mean my timezone, not yours (i always try to write et after the scheduled time, but once in awhile I still get kids in pt asleep when i call with the attitude that I f'd up the call time)
-be somewhere quiet, VERY quiet. if you're driving / at a loud cafe / have friends yelling in background = dinged
-just like any other interview, don't be awkward, TREAT IT LIKE A FRIENDLY FORMAL CONVERSATION. since this is all voice I can't judge your body language, so instead everything will be judged by your conversation skills, tone of voice, confidence, knowledge etc.
-if the interviewer doesnt answer the phone, please know how to leave a formal/proper voicemail (name / your # / best time to get back to you / etc)
-common problem with phone interviews is both people speaking at the same time (especiallywith conference calls), if this happens, pause, and allow the interviewer to proceed
Specific to Skype calls:
-if you're calling from skype and i'm on my cell (ie with international calls), PLEASE have a clean connection. I understand if the call drops once, more than that it becomes an annoyance.
-if we're both talking on skype assume it's NOT going to be on video unless I say so beforehand, so don't load your webcam when I call you. everyone is different so if you're not sure feel free to ask your interviewer beforehand if the call will be on video
-don't have an unprofessional avatar / username (i've seen some weird ones...)
What is the answer to 99 out of 100 questions?
+1