What To Do Before PWM

Points)
on 8/1/12 at 8:01am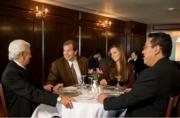 What experience do you think is necessary or just beneficial to have before getting into PWM? I'm pretty sure I've decided that's what I ultimately want to do. Right now I'm working in a BB doing Operations for the Investment Bank.
What kind of position should I be aiming for that would give me good experience and a good shot at PWM? I'm favoring PWM over PB.
Basically, right now I'm entry-level IB. Would it be any better for PWM hiring if I was entry-level Asset Management? They're literally a 5 minute walk from me.
Also, I've read that a CFA won't really help for PWM. Is this true? I thought that it would. Would the CFP be a better option for PWM? How about MBA (not top-tier)? I've done my research on WSO and I know that what they really care about is SELLING. I'm good at selling and have some experience with it. I truly believe that I'd do well. I just want a salary I can live off of, as well, to get me started.
I'm 25 years old right now. I know that late 20's - early 30's is a better time to get in, so I'm trying to position myself to make that move in a few years.
Advice? Also, what are the compensation packages like? What is the base salary? How does commission work? etc.
Thanks in advance for your help.
http://DollarDrip.com Username: Knowledge Kick