When there's blood in the streets it's time to buy!

CO
Points)
on 9/12/08 at 1:11pm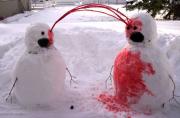 It seems that Bank of America is taking the old saying to heart. It's been bloody obvious from the start of this calamity and I'm not just talking about Lehman Brothers here. That anyone smart enough to have kept well capitalized through this would have some bargain shopping on their hands. What's the other saying, the rich keep on getting richer? If you're BofA that's certainly a fact!