Bonus Bananas June 15, 2012
ST
Points)
on 6/15/12 at 7:30am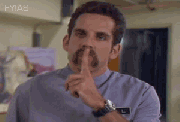 Some weeks there is just too much awesome stuff. Enjoy:
1) Goldman Sachs Hires Single Morally Decent Human Being To Work In Separate, Enclosed Cubicle (The Onion) - Might as well start out with a laugh. I can't believe this is the first time in a year and half I've ever run something from The Onion on Bonus Bananas. It isn't funny because of the notion that Goldman only has one morally decent human being on staff; it's funny to think that they'd ever hire a morally decent human being at all.
2) IMF Head Warns Time Running Out for Euro Zone (Der Spiegel) - You can get ready for an ALL GREECE ALL WEEKEND kinda deal over the next few days with a landmark election in Athens on Sunday. The Eurozone is hanging on by a thread, and IMF Chief (and Chicago native) Christine Lagarde says they've got three months to get their shit together or it's all over but the crying.
3) Who, What, Why: How would Greece switch currencies? (BBC) - Exactly how does a currency disintegrate? What is the procedure? Here's the game plan for how it all comes together. Meanwhile, €1 billion a day has been fleeing Greece leading up to the election.
4) Eurogeddon: A Worst-Case Scenario Handbook for the European Debt Crisis (The Atlantic) - No need to watch Saw VII now that you've got this to read. What if everything shit the bed all at once? There's a perverse aspect to my personality that wants to see it happen just so I can...well...see what happens.
5) Finance blogger wisdom: changed thinking (Abnormal Returns) - This is just awesome. Anyone looking for beach reads this summer need look no further. The best books we read are the ones which change the way we think about something. Here is a list of the best minds in financial blogging and the books that changed their entire thought process on a given subject. There is something in here for everyone.
6) Exclusive Warren Buffett – A Few Lessons for Investors and Managers (4HWW Blog) - Here's a quick peak under the wizard's cloak. This interview goes into what Buffett looks for in acquisitions and investments and is included in the book A Few Lessons for Investors and Managers From Warren Buffett. Great stuff.
7) Billionaire Morse Behind Curtain At Villages (Bloomberg) - This guys cracks me up. He's a modern day feudal lord ruling over his geriatric fiefdom with an iron fist. He controls the real estate, the tax rates, even the local newspaper. And he does it all while managing to stay under the radar. Smart, or kinda creepy?
8) Student Loans: Cities Offering to Pay Debt to Gain Young Residents (ABC News) - You might not be willing to sling equities in Dallas, but would you be willing to crank out pitchbooks in Niagara Falls? What if they paid off your student loans? Several elderly vampire cities have their sights set on the throbbing jugulars of recent college grads. Somebody gotta keep granny in cat food.
9) Mathematical Proof That Crime Doesn't Pay (Gizmodo) - This one actually surprised me. For some reason I always thought bank robbers made more money. Turns out the average bank robbery only nets $4,330. The exceptions to the rule? As always, if you're gonna be a bear - be a grizzly bear. Take over a bank Heat-style guns blazing and you'll up the take, but still not enough to make it worth it.
10) Online electronics dealer 'taxes' IE7 users 6.8 percent for having old browser (The Verge) - I have to admit that I'm a bit of tech snob, which is odd for a guy my age. But I have little regard for those who are not on the bleeding edge of technology. And it turns out I'm not alone. Online retailer Kogan actually assesses your backward ass an extra 6.8% tax on purchases if you're using Internet Explorer 7. God only knows what they charge you if you log in with an AOL email address.
Video of the Week:
I'm a huge Tarantino fan, and the trailer for his latest movie looks like it might do Inglorious Basterds one better. The movie is Django Unchained and it's an homage to spaghetti westerns and blaxploitation films all at once. Jamie Fox plays the title character (the "D" is silent, lol), and the inimitable Christoph Waltz plays the bounty hunter who vows to free him if he helps him to find the murderous Brittle Brothers. I have no doubt that there will be an abundance of graphic Kill Bill-type violence peppered with hilarious one-liners, and I can't wait to see the movie. You'll definitely wanna go FULL SCREEN on this bad boy:
Let me know what you think of this week's Bananas in the comments, and have a fantastic weekend fellas.
Oh, and a Silver Banana to the first one of you who gets the reference to the photo in this post.