Can the BRICS make up for the PIIGS?

Points)
on 6/9/12 at 11:00am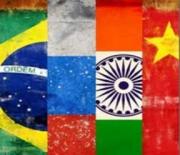 Ever since the Euro crisis began, headlines around the world have been predicting nothing but full on gloom and doom to fall upon us.
4 years into it, the stakes are higher, and the fear-mongering has become worse. Some people however, are saying not to sweat it:
Growth in BRICS countries is far more critical for global economic health than the fate of Greece, as BRICS gains could easily counterbalance losses from Europe's crisis, says Jim O'Neill from Goldman Sachs.
"In the context of the European crisis for example, I'm fond of saying that China creates an economy equivalent to another Greece every 11 and a half weeks," the chairman of Goldman Sachs Asset Management told RT. "So you could wave Greece off the map and in 11 and a half weeks, China creates another one."
Now, I actually like Jim O'Neill, the dude seems to be a pretty smart, respectable guy and he's made a lot of pretty good calls over the years. That said however, I'm calling bullsh*t.
True, the BRICS – China specifically – did play a huge part in cutting off Armageddon over the past few years, but if you ask me, if Greece goes kaput, so will they.
Let's face it, the ramifications of a disorderly Grexit isn't something you dismiss like that. If it does happen, Greece's entire banking system would be wiped out in an instant, its economy will crater, mayhem will rule the streets, and once all the writedowns are tallied, Europe (and maybe even the US) would never be the same again.
Does that sound like something 4 export countries can salvage?
I know I'm being overly simplistic here, but it does seem that O'neill has broken rule #1: never fall in love with a stock – or in his case, a country.
What do you think monkeys? Am I totally off-base here? Or is China hitting 8%+ growth really gonna save us from this mess?
Enjoy your weekend, monkeys.
People like Coldplay and voted for the Nazis, you can't trust people Jeremy