Challenge: Could You Make $100 on the Internet?

CF
Points)
on 7/30/12 at 5:30am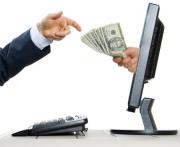 I've been making money on the Internet for a while now, editing resumes, coaching people for interviews and writing articles. A lot of my friends tell me that their dream is to launch a blog, quit their job and do some freelancing while traveling around the world.
I know that's not so easy so I always challenge them with "ok, so how would you make $100 on the internet?"
And that's the exact same question I want to ask you guys today.
If you had to do it what would you create? A blog? A fundraising web site? A free lancing business?
Associate Editor at Mergers & Inquisitions
@AusartThomas