City Smackdown – Part 2: Across the River Thames

HF
Points)
on 8/26/12 at 4:30pm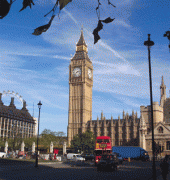 So one day it was time to move. For some very weird reasons, a chair was waiting for my butt in London. I don't know how those things work, but the whole relocation process was taken care of real fast. Suddenly I was in the waiting room of some crazy Visa expediting service in Lexington Ave, then boom, a work Visa appeared in one of my passport pages. A few hundred drinks later, I endured a severely hungover mission in a cab to JFK, and ultimately landed in Heathrow in late June.
It was my second move in less than two years, and I was yet again to jump into the overworked chimp shoes, taking a lot of crap in order to enhance the profits of some soul-sucking financial institution at the Queen's town. Awesome! So how was it? What's London like?
The first weeks were sort of tough. I left New York and its awesome summer weather (and summer miniskirts) and went on to live in a gray city, with an architecture that is somewhat intimidating. It was summer but it didn't really matter. If you were wondering, looking for an apartment in London is a pain in the butt, maybe at par with New York. The bank will try to help you but they will always end up recommending extremely cost-inefficient places. At least the hours are not as brutal and you do have more time to look for a place.
Getting used to London was a slow but steady process. The city is not as friendly as New York, and there are a lot of things to learn in order to fully enjoy it. And take this with you: any serious adaptation attempt to a new town involves some prioritization, and quality of life should be on the top or near the top.
What I mean here is: don't be a cheap bastard and spend a little extra to live near work, preferably in a cool place. Living in a sub-optimal place and investing rent savings at a ridiculously low rates when you're barely making six digits is moronic. You're not processing accounts payable for some shitty corporation, 9-5. You chose to donate your soul to the devil, in exchange for the possibility of forgetting about money altogether in a few years.
The reason why I didn't stay in London long-term has to do with the economy and bad professional perspectives but I wish my relationship with the city lasted a little longer. By the time I was moving out, I realized there are so many cool things about it , so let's go for a Top 5. And for the sake of discussion, let's go for 3 of its not so cool things.
London Top 5
(1) Friday Beers: you do not miss this. Everyone goes, and it's no face time to please your boss. People do get quite hammered, that includes your boss, the summer intern and the hot Scandinavian associate who just broke up with her boyfriend
(2) My hours: S&T average was 7a-6p (summer), 7a-8p (other seasons). Sublime.
(3) Geographic location: well, you're a short flight away from a ton of cool places. Summer is especially awesome. This weekend in Mallorca, the next one in Villefranche-Sur-Mer, the other one in Sardinia…
(4) Diversity: I remember reading somewhere that London is the place with the largest number of spoken languages in the world. In addition to that, the cultural diversity of the streets is replicated inside the banks, unlike New York.
(5) People: London people are much friendlier than those of New York (duh), but also than those of many other financial centers I lived in or visited.
Worst 3 things about London
(1) Services: well, maybe anchoring expectations at the New York level is a bad idea, but the fact is that you won't find as many affordable/good service providers. From the shoeshine guy to delis to cable TV. OK, maybe not cable TV.
(2) Weather: this may not matter a lot to many people, but the city where I was born and lived until college was Rio de Janeiro, Brazil. Enough said.
(3) Food: you can get angry with me, as much as you want, I don't give a shit. British. Food. Sucks.
See you in São Paulo next week.