College under fire.

AM
Points)
on 5/21/12 at 6:30pm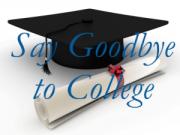 Lately there has been a shift in public opinion regarding the investment in a college education and a lot of debate has been sparked up in the media regarding the ROI of a formal four year college education and the alternatives that are out there.
One of the more popular movements is a $100k fellowship offered by Peter Thiel that was detailed last night on 60 minutes. The $100k offer is made to what Peter thinks are innovative and entrepreneurial students. He basically persuaded them to drop out of college for the money and opportunity to develop their ideas.
Another comparison that has been made is that there are vocational careers such as plumber, electrician, or air traffic controller that pay as much as a physician or dentist but require much less formal education.
Even here on WSO we see arguments such as target vs. non-target for undergrad, and I have seen several postings that stated that MBA programs that are not top ten on the rankings are not worth going to, especially when you factor in the cost, both monetary and opportunity, that is required of you.
To share a personal story, someone very close to me has graduated from a top art and design school and has an offer to work as a 3d animator for a large company (think pixar, dreamworks etc.) The starting salary is between 40-50k in a mid-sized city where the cost of living is much less than we are used to here in the financial center cities. However, when accounting for the 110k of student loans that this person has accrued, the monthly payments that kick in after the 6 month deferment period are about $1,500 a month . So with a after tax and benefit monthly income of approximately $2,200 how is this person supposed to pay off the student loan without getting a second job or receiving outside support? Seems like a tough task to me. Unfortunately this is the reality of most of today's students in their 20s.
Let's take this one step further. I have mentioned in previous blog posts that during my four years of undergrad as a finance major at a non-target university I learned quite a bit about the inner workings of capital markets, how deals are put together, and how different financial instruments work. This is all great, but while doing the first two levels of the CFA program, I feel that I have already covered everything that I learned during undergrad and then some. Most importantly the CFA fees so far with all of the third party study packages that I have bought are still under $3,000 which is just under what one semester costs at a state school. Just something to think about, although, I do fully acknowledge that without a Bachelor's degree, I would have never had a chance to interview with a BB bank.
The discussion is this: will companies ever take seriously any credentials that do not have a Bachelor's degree attached to them (remember, only a century ago it was normal for bankers and other professionals to have successful careers based on experience and not some formal degree)? Will we have to see the trillion dollar student loan bubble burst before any actionable discussion starts around this topic among our policymakers?