Doing the Volcker Shuffle?

ST
Points)
on 7/15/12 at 9:30pm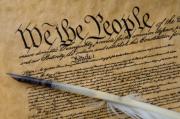 This month all prop trading activities within major banks will be shut down under Title 6 of the Dodd Frank Act, otherwise known as the Volcker Rule. The idea behind this rule is that banks shouldn't be able to invest consumer deposits under the protection of the FDIC. Most people can agree that this cause is noble and justified one, however questions still remain as to whether Washington has gone too far in their continuous drafting and revision of Title 6.
The Volcker Rule started as a three-page letter from Paul Volcker, former Chair of the Federal Reserve, but by the time Washington was through, it had transformed into a 300 page mutant. To me, that seems a little ridiculous - after all, the entire foundation of the United States was originally laid out within a six page document. The Dodd Frank Act, in total, is about providing safety, stability, and transparency to the financial markets. But the Volcker Rule seems to lose sight of broader goal.
The technical launch date of the Volcker Rule is July 21st, which means that the banks will be running around like chickens with no heads trying to catch up to an impossible deadline that in the end is arbitrary anyway (what else is new, SA's?). Then banks will have 6 months to comply or will face some serious penalties. However, there is a problem.
The Volcker Rule isn't finalized yet...six days from the deadline. None of the banks know exactly what requirements they will be expected to meet by this Saturday, so they are just injecting money into compliance. Who makes a deadline on a Saturday anyway?
I was once told "People who work in Washington are a group of smart people who know nothing." What do you guys think about the rule? Do you see it taking effect at work? Will anyone be having an especially long week?
Btw, it's my 21st birthday.