Double Dip the Crib

Points)
on 9/16/10 at 11:18am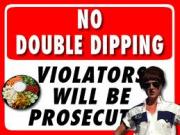 Do not double dip, young man! Mother always said...
"If you double dip, you may end up dead!".
5 years ago, what sort of chance would you have given this nursery rhyme of becoming a reality ?
In a perverse comedic orgy the likes of which I do not recall...there still seem to be people who need to hear this sort of thing again and again. The Ostrich Syndrome is strong in some, young padawans. Beware the Dark Side.
I know that the following story will hit close to home for some of you. For those who cannot relate, consider the implications of the things you do today and everyday, all the while thinking tomorrow is promised...
Several years ago, my folks bought a home. It was a good deal (at the time), but required much work. My dad being the handy guy that he was, thought it to be a steal for the price. He would simply hammer and nail away at it for a few years and the dream home would flourish.
Little did the old man figure that one day on a routine check up, doctors would find polka dots on his chest x-ray. The cancer was so advanced, they didn't give him a month. In a montage of classic Hollywood proportions, I watched a man who'd kicked my ass in push-up contests for years, melt into nothing.
Like many who didn't plan to simply drop dead. He left nothing but bills. For the past few years I have been paying the mortgage and all of the many repairs that go with it. I won't begin to tell you how hard it has been as I live in a different city and help more than a few family members out financially.
I have been lucky enough to manage, but it hasn't been easy. My story is unique perhaps only in that I choose to accept responsibility, rather than find villains and excuses.
I am sharing this "none of your damn business-ness" with you guys for one simple reason. There is always a price. For every dollar you make, for every breath you take. Nothing will ever be for free, so measure thrice and shear but only once.
The housing market's fall is not only a manifestation of simple econ in action, but a lesson in life...from the literal, to the physical, to the spiritual.
As someone who has been personally and deeply effected by the housing crisis, I know far better than to blame Wall Street or even the leeches in Washington.
We are all responsible for cleaning up our own mess.
America. You are reaping what you sowed and it is a blessing in disguise...if you face this moment bravely it will make you stronger than you could have imagined yourself, but if you cave as you have been caving...if you blame as you have been blaming...if you excuse, shun, ignore and disregard what is happening right before your eyes...you will find yourself eaten by your own true lies.
As a country we have been a long blessed child of privilege. The fallout of the fallen housing market will determine which of us are ready to grow up, taking our first steps into a larger world...and which are the vermin who have simpy sucked the silver out of their birth spoons.